All for one: 28 EU states agree on first-ever military support to France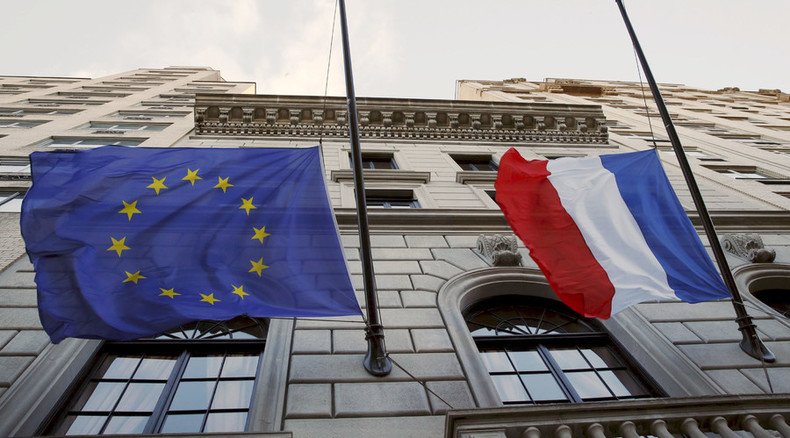 France has invoked an EU treaty collective defense article requesting military help from its European partners in response to the terror attacks in Paris. EU officials say the mutual defense article is being used for the first time.
The assistance would come from 28 European partners under Article 42.7 of the EU's Lisbon Treaty, which outlines mutual defense among the EU members. Called the 'mutual defense clause', the Article reads that if any EU country "is the victim of armed aggression on its territory, the other Member States shall have towards it an obligation of aid and assistance by all the means in their power, in accordance with Article 51 of the United Nations Charter."
Speaking at a press conference in Brussels on Tuesday, French Defense Minister Jean-Yves Le Drian said all 28 EU member states unanimously accepted France's formal call for "aid and assistance" under the EU treaty and he expected all to help quickly in various regions, Reuters reports.
"This is firstly a political act," Le Drian said of the decision to invoke article on mutual defense of the EU treaty.
The minister said France at this time does not have sufficient capabilities to wage several different military operations simultaneously, and expects full military support from its European partners.
"Beyond that, how is this going to work? It may be by cooperating with French interventions in Syria, in Iraq, it may be in support of France in other operations," Le Drian said, quoted as saying by RTL.
The EU treaty mentions certain security issues, but Paris preferred to resort to mutual defense article instead of using Article 222, the so-called 'solidarity clause'. It specifically tackles the issue of response to European countries in case of a terrorist attack and requires EU members to "mobilize all the instruments at its disposal, including military resources."
The EU's chief of diplomacy Federica Mogherini confirmed France will receive military assistance, but on bilateral tracks. The assistance is not to come from the EU as a whole within the so-called Common Security and Defense Policy, which is a European collective security system, according to RIA Novosti.
"We will continue to work together on bilateral basis during next days," she said.
Paris did not choose to employ Article 5 of NATO's Washington treaty, which says an attack on one is attack on all, although the EU's mutual defense clause provides no common military infrastructure within the European Union itself.
France has launched a massive air campaign against Islamic State (IS, formerly ISIS) targets in Raqqa, Syria, following Friday's terrorist attacks in Paris. On Sunday, 12 French aircraft, including 10 fighter jets, took part in the country's biggest air raid over Syria. The strike, coordinated with the United States, was carried out simultaneously from Jordan and the United Arab Emirates.
You can share this story on social media: