1mn Syrians return home since launch of Russian anti-ISIS ops - Syria UN ambassador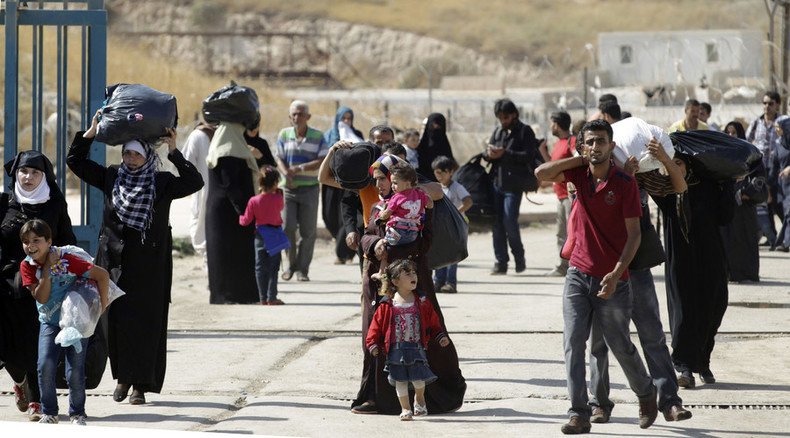 Around 1 million Syrians have returned to their home cities liberated by the Syrian military with Russian air support, Syria's UN ambassador said Monday, adding that Damascus is determined to work with any state that takes combatting terrorism seriously.
Syria's ambassador to the United Nations, Bashar Jaafari, said that "this is precisely what happens when it comes to Syrian-Russian collaborative military action against terrorists and exchange of intelligence between Syria, Iraq, Iran and Russia. This has practically resulted in terrorist groups' retreat from [their positions in] many areas, which allowed 1 million internally displaced persons to return safely to their homes."
The Syrian ambassador, who took part in a UN Security Council meeting on Monday, confirmed that the Syrian government was ready to cooperate "with any state which has a serious approach to combatting terrorism," TASS reported.
Jaafari also said that the anti-ISIS campaign by the Syrian military has had a positive impact on security worldwide and in Europe.
He believes that Syria's war against terrorism "is in the entire world's interests" because "every time the Syrian army engages a foreign terrorist, it saves dozens of innocent lives who might be threatened whenever [the foreign terrorist] returns home." Jaafari also said that those carrying out terror attacks on cities around the world such as Paris "were among thousands of Europeans who came to Syria to wage jihad."
READ MORE: Combat report: Russia flies 107 sorties in Syria eliminating 289 terror targets in 2 days
Europe is currently facing an overwhelming influx of migrants coming mainly from Middle East and North Africa, regions torn apart by the violence and unrest that erupted after the so-called Arab Spring. By the end of this year, Germany alone expects nearly 2 million asylum seekers by the end of 2016. The number of refugees poses a serious challenge to EU governments, and has sparked a massive campaign by politicians and the media, playing on fears that the influx could seriously affect those countries' safety.
On Sunday, Bavarian Finance Minister Markus Soeder said: "One million is way too much. Conceivable at best, is an orderly immigration of between 200,000 and 300,000 people." Soeder is a member of the Christian Social Union, German Chancellor Angela Merkel's right-wing coalition partner in government.
There are some allegations at least two of the attackers who took part in Friday's massacre in Paris entered the EU as migrants. French police said they found a Syrian passport "near the body of one of the attackers" during the investigation into the assaults. On Saturday, Greek authorities confirmed that the holder of the passport might have entered Europe via Greece in October.
Over the past few years, Syria has suffered a mass exodus of millions of people forced to flee their homeland due to the ongoing civil war in the country. According to an estimate by the UN High Commissioner for Refugees in July, the number of Syrian refugees fleeing the conflict in Syria to neighboring countries has exceeded 4 million. There are at least an additional 7.6 million people who are internally displaced, many of them living in extremely difficult conditions.
Russia has been bombing ISIS infrastructure in Syria since September 30, after receiving a request for aid from Syrian authorities. The air support for the Syrian army has been provided by more than 50 aircraft and helicopters, including the Su-34 and Su-24M bombers, Su-25 close air support aircraft and Su-30SM fighters, accompanied by Mi-8 and Mi-24 helicopters from the Khmeimim air base in Latakia. Russian Navy corvettes also launched Kalibr NK ship-born cruise missiles on IS targets on October 7 from the Caspian Sea some 1,500 kilometers away.
You can share this story on social media: