'It's only a belief': 87yo German Neo-Nazi Granny jailed for denying Holocaust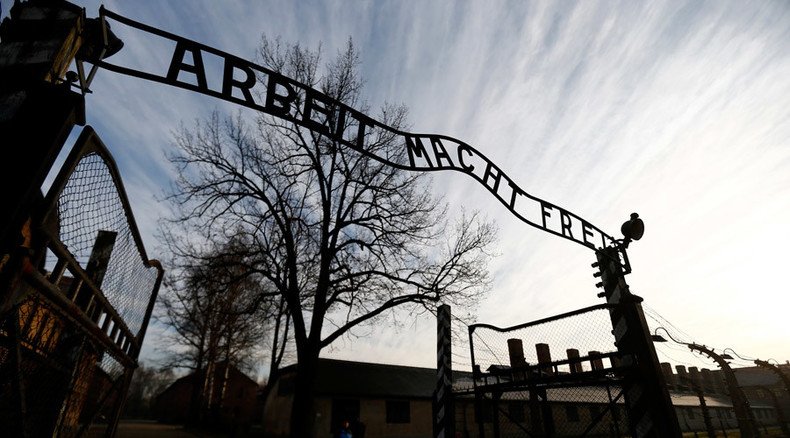 A German court in Hamburg has sentenced an 87-year-old woman, well known as a Neo-Nazi activist, to 10 months imprisonment for incitement of hatred. She is a Holocaust denier.
Auschwitz was not a death camp, it was just a work camp, Ursula Haverbeck-Wetzel told a Norddeutscher Rundfunk (NDR) journalist during the trial of the former SS serviceman Oskar Gröning, accused of being involved in Auschwitz mass killings.
READ MORE: 91yo German woman accused of assisting deaths of 260,000 Jews in WWII
Later, Haverbeck-Wetzel repeated her statement in an interview to the ARD TV-Channel. She added that the published Auschwitz commandant's orders prove her position.
"The Holocaust is the biggest and most sustainable lie in history," Haverbeck-Wetzel said in April, the Local reports. It is "only a belief," she said on Friday during the trial.
German legislation regards as incitement of hatred not only encouraging hatred or violence to a particular group of people, but also approving of, denying or downplaying Nazi crimes. So Haverbeck-Wetzel faced trial for her statements.
"Yes I said that indeed!" Haverbeck-Wetzel told the judge at the trial. She also asked whether the German constitution was still a legal basis for the court, referring to freedom of expression.
"We have no personal experience. You know about it (Auschwitz) only through the grapevine – like me. Who told you that this is really true?" she said asking the judge to prove that the Holocaust really took place.
"I don't have to prove to you that the Earth is round," the judge answered.
Finally, the court decided to sentence Ursula Haverbeck-Wetzel to 10 months imprisonment without the right of parole.
"I will never accept this verdict!" Haverbeck-Wetzel said at the court.
Incitement of hatred carries a potential sentence of up to five years in Germany, but the verdict is not so harsh because of the age of the convicted. The court, however, decided to sentence Haverbeck-Wetzel to a jail time because it wasn't the first case against her.
Haverbeck-Wetzel is a known right-wing extremist who has a criminal record, two fines and a suspended sentence for sedition.
She was once a head of the "Collegium Humanum" which was founded as an environment organization, but later transformed into a right-wing extremist group. Haverbeck-Wetzel, moreover, helped to establish an association aimed at helping people persecuted for denying the Holocaust.
The Holocaust was the genocide of the Jews in the Third Reich, which killed approximately six million. Almost 1.5 million people – most of them Jews – were killed in the Auschwitz death camp between 1940 and 1945. On January, 27, 1945 Soviet troops captured Auschwitz and saved about 7,500 prisoners, who had not been evacuated by the Nazis.
You can share this story on social media: