91yo German woman accused of assisting deaths of 260,000 Jews in WWII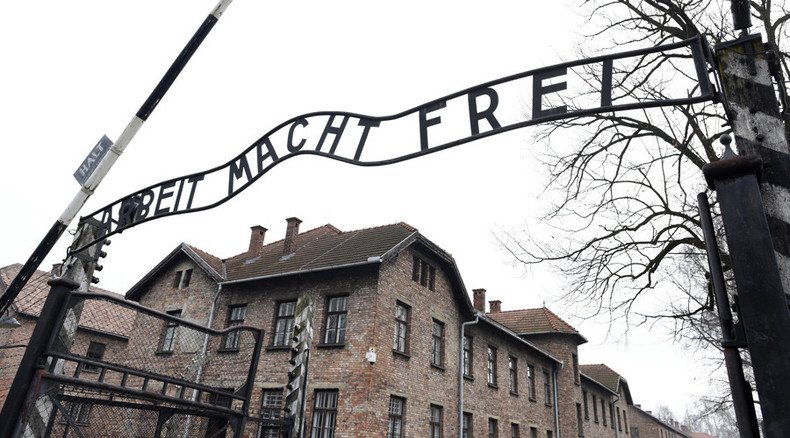 A 91-year-old woman who was reportedly an SS assistant at the Auschwitz concentration camp during World War II has been accused of being involved in the deaths of at least 260,000 Jews, according to the German media.
The woman whose name has not been released was working as a radio operator at Auschwitz and was a member of an all-female unit, which operated at the Nazi camp.
She is accused of being involved in the murders of Jews from April to July 1944 because she helped the camp to function.
A court in the city of Kiel, in the north of Germany will look into the evidence against her before deciding whether to press charges, chief prosecutor, Heinz Dollel told the DPA news agency.
If the case goes to trial, the woman will be prosecuted in a court for minors because she was under 21 at the time she allegedly committed the crimes.
READ MORE: Suspected Nazi war criminals collecting 'millions' in Social Security – investigation
Auschwitz in occupied Poland, was a network of concentration and extermination camps during the Second World War. The Nazi's killed around 1.1 million people, the vast majority of who were Jewish, according to data obtained by the Memorial and Museum Auschwitz-Birkenau.
Germany has previously only prosecuted Nazi war criminals if evidence shows they were personally involved in the crimes that were carried out.
However, in 2011 in a landmark ruling, a court in Munich sentenced a SS voluntary assistant Ivan Demjanjuk, to five years in prison after he was found guilty of complicity in some 30,000 Jewish deaths in German-occupied Poland during World War II.
In July, 94 year-old Oskar Groening, a 94 year-old former SS sergeant, who worked at the Auschwitz death camp in 1944, was convicted of 300,000 counts of accessory to murder and given a four-year sentence by a German court.
During his work as an SS guard, Groening also helped collect and tally money that was found – prompting the German press to call him the 'accountant of Auschwitz.'
READ MORE: 'I seek forgiveness': 93yo former Auschwitz 'accountant' stands trial in Germany
During the court hearing the Auschwitz sergeant said that "in moral terms" his actions make him guilty and asked for "forgiveness."
You can share this story on social media: