Dubai firefighters will get jetpacks to battle skyscraper blazes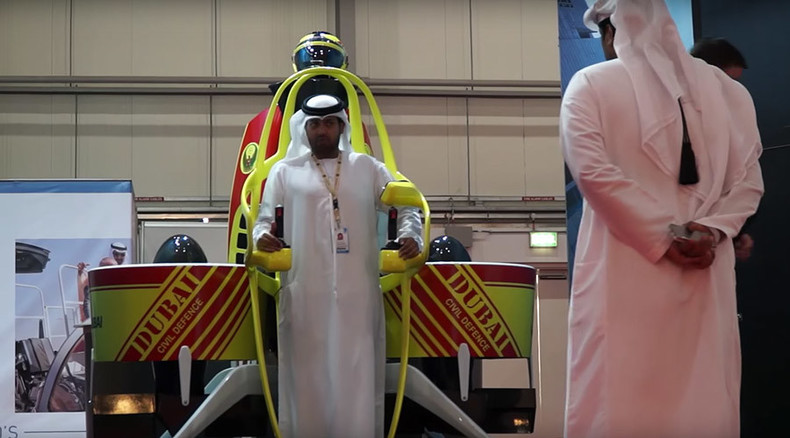 Dubai is set to purchase futuristic first response units for its emergency services, once jetpacks manufactured by Martin Aircraft hit the market next year. The city famous for its high-rise buildings hopes the technology will save lives if disaster strikes.
The New Zealand-based company has signed a memorandum of understanding with Dubai's Directorate of Civil Defence for the future delivery of 20 "manned and unmanned Jetpacks," and two simulators that will come with technical service and training.
"Dubai is one of the fastest growing future cities in the world. With its modern skyscrapers and vast infrastructure, it has always been a world leader in adapting new technology to improve and save people's lives. The introduction of Martin Jetpacks into our fleet of emergency response vehicles is another example of how Dubai leads the world," said the Director of Operations Department of the Civil Defense, Lt. Colonel Expert, Ali Hassan Almutawa.
Martin Aircraft Company's single-person aircraft has no wings or body but uses two ducted fans for elevation. It is airlifted using a 2.0-litre V4 piston 200-horsepower gasoline engine.
READ MORE: Afraid of heights? No way! Jetman flies alongside Emirates A380 superjumbo (VIDEO)
According to the company it can reach a top speed of 74 km/h (46 mph), while its cruising speed is 56 km/h (35 mph). Furthermore, the carbon fiber made craft can be deployed in the open air as well as in confined spaces with a 910 meter flight ceiling.
"The Jetpack can take off and land vertically (VTOL) and because of its small dimensions, it can operate in confined spaces such as close to or between buildings, near trees or in confined areas that other VTOL aircraft such as helicopters cannot access," the company said in a press release.
Fully loaded with gas, the first response unit has a range of 30–50 kilometers (19–31 miles), and can stay air borne for about 30 minutes. The machine that will cost around $250,000 when it hits the market in 2016, has a payload weight of 120 kilograms while it itself weighs 200 kilograms.
While seemingly ideal for reaching hard to get places in an emergency situations, the Jetpack can also be useful in a number of other sectors such as oil and gas industry as well as in agriculture. The company believes that their creation will also be used in intelligent surveillance and rapid deployment of specialist teams.
The jetpack can be flown by a pilot or via remote control. As for the safety features, if the aircraft fails, it is equipped with a ballistic parachute that is deployed in emergency situations to save the pilots life.