EU mulls Balkan migrant processing centers to 'avoid catastrophe'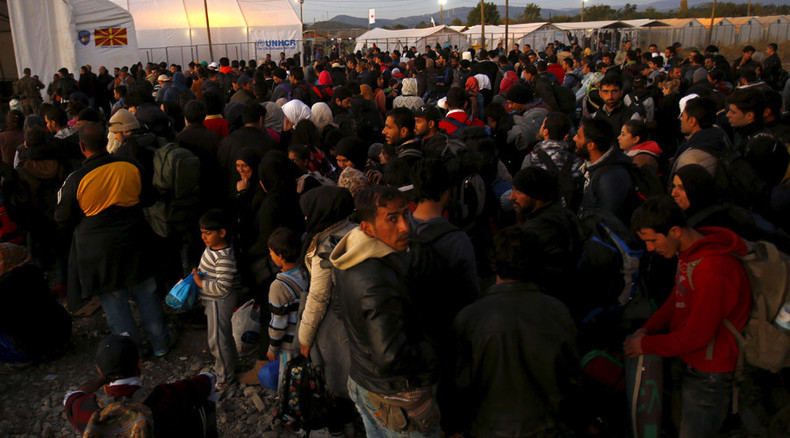 EU interior ministers have discussed setting up migrant processing centers in the Western Balkans in an effort to relieve pressure on EU borders, warning of a humanitarian "catastrophe" in the winter months unless thousands of refugees receive necessary aid.
The EU calls for setting up "processing centers in countries where the hotspot approach has not been implemented," according to a joint statement issued after a meeting of interior ministers in Brussels.
The plan is to set up centers in EU and non-EU countries in the Balkans, excluding Turkey, in order "to organize access to international protection" and for sending back those migrants who do not meet the protection criteria.
The details of the proposal and the possible locations of the centers will be revealed in the coming weeks, but for now the plans seem to include deploying EU personnel who will take over part of the registration and identification processes.
"The European Union must do everything to avoid a catastrophe as winter closes in," Luxembourg Foreign Minister Jean Asselborn said after chairing Monday's discussions. "We cannot let people die from the cold in the Balkans."
At the same time, European Migration Commissioner Dimitris Avramopoulos made it clear that there was no plan to set up "detention centers" for the refugees.
For hundreds of thousands of migrants heading to Europe from the Middle East, the salvation route lies through Greece and the Western Balkans, with the ultimate destination in Germany and other northern EU countries. More than 770,000 people have reached the EU, and nearly 2,800 people drowned crossing the Mediterranean so far this year.
Macedonia has struggled to cope with the influx of people from Greece, shutting its borders and declaring a state of emergency. Serbia, another Balkan state, is also struggling to cope with the refugee flow. Last month, the EU and Balkan countries agreed to set up accommodation for 50,000 people in transit between Greece and the rest of the EU. The new processing centers could overlap between places of accommodation and asylum processing centers.
Following Monday's meeting, the EU interior ministers also urged Italy and Greece, both countries at the front lines of the migrant flow, to speed up the processing of new arrivals so that they could then be relocated to other EU countries. However, while the plan suggests relocating some 160,000 people, less than 2,000 places were made available as of last week, and only around 150 people have been relocated so far.
LISTEN MORE: