Activists urge German authorities to ban PEGIDA demo on anniversary of 1938 anti-Jewish pogroms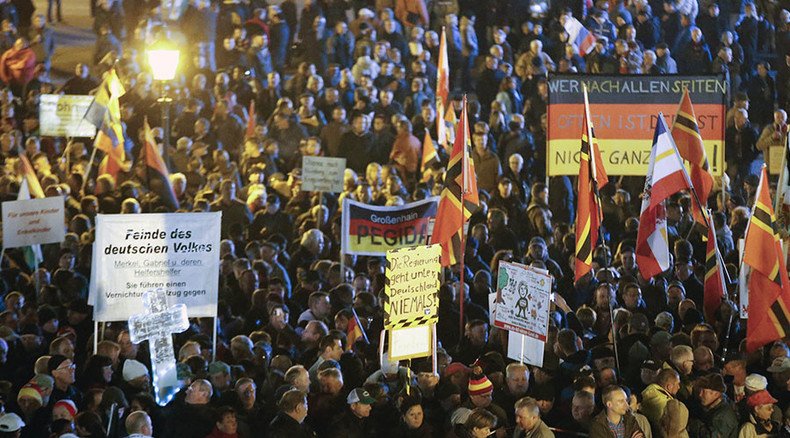 Tens of thousands of Germans are demanding that authorities ban a PEGIDA demonstration in Dresden on Monday, the anniversary of the so-called Kristallnacht 1938 anti-Jewish pogrom under Adolf Hitler.
In an online petition posted on Change.org, activists say it is unacceptable for local authorities to let the far-right, anti-immigrant PEGIDA (Patriotic Europeans Against the Islamisation of the Occident) rally on the anniversary of this notorious date in German history.
They are urging city authorities to "abolish or suspend" PEGIDA's demonstration on this "historically significant day – the Reich's Kristallnacht" – when 1,400 synagogues were torched and residential areas and Jewish cemeteries were destroyed. On the next day, November 10, 1938, around 30.000 German Jews were rounded up and thrown into concentration camps, with hundreds being killed in custody.
Activists have also denounced the planned venue for PEGIDA's demonstration – the city's Theater Square, called Adolf Hitler Square under the Third Reich, which "at that time was used for military parades and demonstrations of the Nazi regime."
So far, the online petition calling for a ban has been signed by over 79,000 people.
The move comes as PEGIDA and other far-right groups gain popularity amid the migrant and refugee crisis in Germany and beyond.
On its first anniversary, on October 16, PEGIDA held a number of rallies across Germany, which were attended by thousands of people. The demonstrators were calling on the government to stop the influx of migrants and the so-called "Islamization" of Europe. The first PEGIDA rally in Dresden took place one year ago and was attended by about 350 participants. The number of supporters increased dramatically to around 17,500 by the end of the year.
PEGIDA is blaming Angela Merkel's government for being unable to cope with what it calls the overwhelming numbers of migrants who consider Germany their final destination due to its "open door" policy and social security. In September, PEGIDA issued a 10-point-program that included demands such as stopping the influx of asylum seekers, adopting a German asylum emergency law, suspending the Schengen treaty, imposing stricter border controls and even exiting the EU if the government tries to block the proposed PEGIDA program.
The government in its turn is accusing PEGIDA rally organizers of being "far-right extremists and demagogues." Critics of the movement slam it for inciting racism, xenophobia and Islamophobia. PEGIDA rallies are usually accompanied by counter-protests.
Resistance to Merkel's policies toward migrants is growing from not only far-right groups, but also regional authorities and some communities.
On October 9, the German state of Bavaria threatened to file a constitutional complaint against the federal government unless it implements "efficient measures" to curb the influx of refugees. If it refuses, Bavaria will take the matter to the Constitutional Court and charge the German government with endangering "the legal capacity of the German states to act independently," Bavarian Interior Minister Joachim Herrmann announced after an emergency meeting of the Bavarian government.
The government's welcoming policy towards migrants has also been attacked for being too unbalanced. Earlier this month, a small German village with just 102 residents and almost no public facilities, had to house 750 asylum seekers after a decision by the regional authorities. Villagers feared the area would be unable to cope with the burden. The first group of 500 refugees also reportedly arrived in Sumte, a small village in the German state of Lower Saxony. The one-street settlement with no shops, no school and no police station fears that its accommodation capabilities will be pushed to the limit.
READ MORE: 'No infrastructure for so many people': German village of 102 getting ready to house… 750 refugees
Christian Fabel, the village's mayor, and his wife thought "it was a joke," which "certainly could not be true."
He said: "We have zero infrastructure here for so many people," the New York Times reported.
You can share this story on social media: