Berlin anti-migrant protest draws thousands, counter-rally scuffles with police (VIDEO)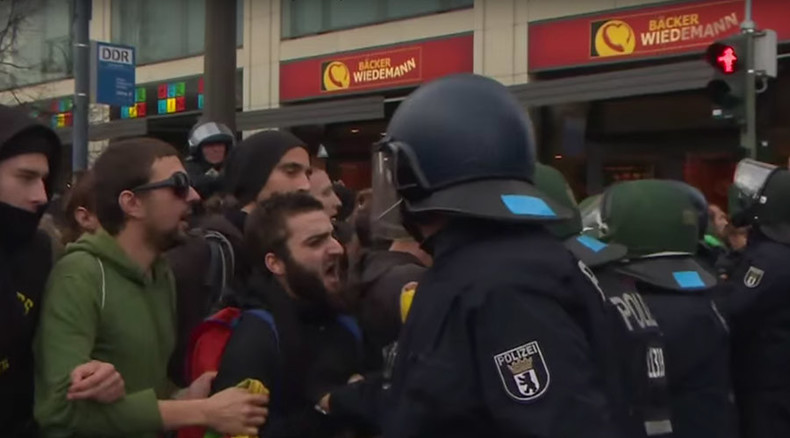 About 5,000 people gathered in Berlin on Saturday to express their outrage at the asylum policies of the German government. Several counter-demonstrations were staged, one of which escalated into scuffles with police resulting in arrests.

"Merkel must go!" and "Hop, hop, hop – accepting must stop!" chanted the activists of the anti-migration rally organized by the eurosceptic party Alternative for Germany (AfD), Rundfunk Berlin-Brandenburg (RBB) reports.
With banners reading "Save Germany, stop Merkel!" and "Asylum has its limits – red card for Merkel," anti-migrant activists marched from the railway station to the Red Town Hall. Along with AfD activists, a group of 40 Neo-Nazis participated in the rally, local press reported.
Five counter-protests welcoming migrants gathered a total of 800 to 1,100 people under slogans "Nazis, go away!" A total of 1,100 police were deployed in the capital to prevent trouble between the rival demonstrators.
Scuffles between pro-migrant activists and police erupted after protesters taking part in a sit-in demonstration tried to break through the barriers separating them from the anti-migrant march, according to AFP. Police reportedly resorted to batons.
Over 40 people were arrested, and one officer was slightly injured.
Alexander Gauland, AfD deputy party president, compared the current influx of immigrants with the invasion of the Western Roman Empire by barbarians, which resulted in its destruction.
Such rhetoric is irritating other parties. Earlier, Berlin's parliamentary factions – the Social Democratic Party of Germany (SPD), the Christian Democratic Union (CD), the Greens, as well as the Left – had called for an anti-AfD demonstration. However, the pro-migrant march on Saturday attracted way less supporters than the thousands who had been expected to join.
Germany has already accepted about 500,000 asylum seekers this year and is expected to host from 800,000 to one million refugees by the year's end, as reported by the German media. The influx of migrants is mostly caused by crises in Syria, Afghanistan, Libya and other countries.
You can share this story on social media: