'An Evening with Larry King': News legend talks to RT's Afshin Rattansi ahead of his debut on RT UK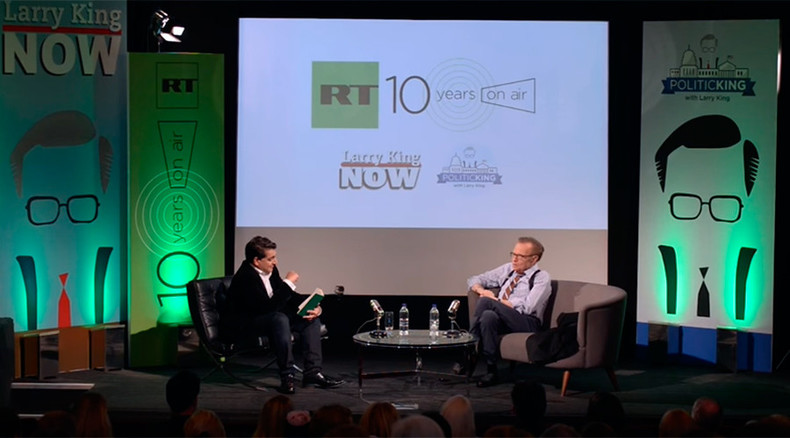 As legendary interviewer Larry King is set to debut his shows on RT UK, he sat down with RT's "Going Underground" host Afshin Rattansi at a special RT-hosted event, "An Evening with Larry King," to give the audience a taste of what the British viewers can expect.
Ever wondered what would Larry King be doing on RT in the first place? The host says that he found the network to be "a good home" for his shows, which the channel has been distributing since 2013.
"It's seen around the world, it fit in what I was doing," he said.
"I try to get answers, I ask questions, I have opinions, but at the core of it – what do we know? All we know is to ask, as RT says," the TV host told Rattansi and others, adding that he's "a communicator" who has never in his 58-year career had a boss or a program director telling him what guests to have or questions to ask.
"They [RT] have never taken anything out. I've never heard from them: 'Don't do this, don't ask this, don't interview that person," Larry King said at the London event, which also included a meeting with British journalists and public figures.
In answer to one BBC journalist's question about whether he feels conflicted about working at RT after years at CNN, King said that he's "had shows critical of Putin," but "RT never interfered."
Watch "Going Underground" interview Larry King:
The internationally acclaimed TV host will have his shows broadcast five times a week on RT UK starting November 9.
Larry King Now and Politicking have been airing on RT America since 2013, with PoliticKing created especially for the news network. It deals with burning political issues and has featured the Dalai Lama, former US vice president Dick Cheney, and businessman and Republican presidential nomination contender Donald Trump, among its guests. The Emmy-nominated Larry King Now show has seen Russell Crowe, Matthew McConaughey, Marion Cotillard, Celine Dion, and Mike Tyson among the host's guests.
"I used to be on every day. Now I am back to every day on RT: Monday, Wednesday and Friday with Larry King Now... with a lot of entertainment and sports... and Tuesday and Thursday with PoliticKing... which only deals with politics," Larry King announced.