'I'm comfortable with my choices': Snowden on CIA torture, ISIS and surveillance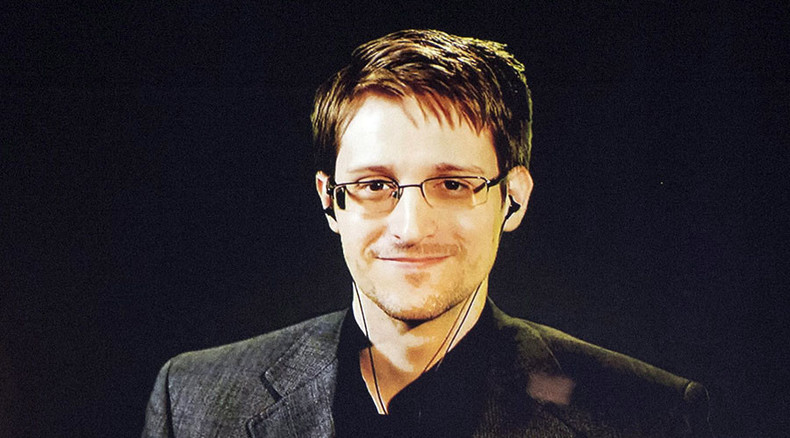 In an interview with Swedish media, whistleblower Edward Snowden opened up about CIA torture, ISIS, and mass surveillance. Two-and-a-half years after revealing the NSA's mass surveillance tactics, he says he's "very comfortable" with his choices.
The interview, conducted by journalists Lena Sundström and Lotta Härdelin for Sweden's Dagens Nyheter newspaper, took place at a Moscow hotel. Just as you might expect at the beginning of an interview, the two reporters began by asking Snowden how he's doing.
"It's hard for me to talk about what it's like, because anything I say is going to be used by US critics. If I say good things about Russia, you know, like 'it's not hell,' then they'll be like 'he fell in love with the Kremlin' or something like that. If I say something terrible, then it's the same thing. Then they'll go 'oh, he hates it in Russia, you know he's miserable,'" Snowden told the journalists.
The whistleblower was, however, willing to speak about what he misses the most – his family.
"But I'm very comfortable with the choices I've made. I can still see my family when they come here to visit. I can still communicate with anyone anywhere," he said, adding that the conditions of exile have changed with today's modern world.
"It used to be, when people were pressed into exile, they'd lose their connections, they'd lose their significance, they'd lose their influence in the political debate...but technology is changing that. Exile as a strategy is beginning to fail," Snowden said.
On CIA torture
Snowden said it is "really just crazy, the way that the US government has handled the issue of torture."
"...There were indications that there were people in the CIA, who wanted to talk about these things, but who felt stressed. Some even asked to be moved, because they couldn't cope with the things they were witnessing and they wanted to do something about it. But instead of providing some path for these individuals to report the wrongdoings that they were witnessing, the CIA actually asked them to stop documenting the abuse," he stated.
He accused the US government of choosing to avoid embarrassment by hiding wrongdoing, rather than actually trying to fix problems – even if that approach could lead to greater, more entrenched threats.
When asked about foreign countries that host black sites and torture centers, Snowden said they set a bad precedent for the entire world.
"These countries begin to think we're okay with that, these are things we're willing to do, because if America does it, it must be alright..."
"...But ultimately, these things come out. You can't keep a secret that's so horrendous forever. You can keep it for years; you may be able to keep it for decades. But eventually it will come out. And you pay a moral cost. We actually spend money to shoot ourselves in the foot," Snowden said.
When explaining why he thinks the rest of the world turns a blind eye to such arrangements, the whistleblower said it is "legitimized by the threat of terrorism."
On US drone attacks and ISIS
Referring to the so-called 'Drone Papers' – classified documents about US drone strikes published by The Intercept in October revealing that nine out of ten people killed by drones weren't the intended targets – Snowden stressed that Washington doesn't target individuals with its drones, but rather phones.
"And they don't know whether the terrorist is holding the phone or whether his mother is holding it. And this is why so many drone strikes go wrong, why so many wedding parties get hit," he said.
READ MORE: Leaked: 'New Snowden' releases Obama's drone program papers
"When I saw the Drone Papers, there wasn't a question in my mind that this was the most important security story of the year," he said.
He added that the drone program "creates more terrorists than it kills."
Snowden had a similar view on ISIS, saying there was "no Islamic State until we started bombing these states. The biggest threat we face in the region was born from our own policies."
He accused the US of "thinking on an emotional level, not a smart level," as it launches an "immediate response that doesn't make sense."
On US mass surveillance
Referring to the US mass surveillance tactics that made him a household name, Snowden said that even those who think they have "nothing to hide" should be against the methods used by the National Security Agency (NSA).
"It's not about not having something to hide; it's about having something to lose. What we lose when we're under observation is our humanity. What shapes us, what makes us individuals, is the fact that we can think, we can develop," he said.
He went on to state that "arguing that you don't care about the right to privacy because you have nothing to hide, is no different than saying you don't care about free speech because you have nothing to say, or the freedom of press because you're not a journalist, or the freedom of religion because you're not a Christian. Rights in societies are collective, and individual. You can't give away the rights of a minority, even if you vote as a majority. Rights are inherent to our nature, they're not granted by governments, they're guaranteed by governments. They're protected by governments."
Snowden, a former contractor for the NSA, made international headlines in 2013 when he exposed the US government's secret mass surveillance program. He now resides in Russia, where he was granted asylum after Washington charged him with theft and espionage.
Regarding his whistleblower status, Snowden stressed during the interview that "being a whistleblower is not about who you are; it's about what you've seen. Whistleblowers are elected by circumstance, anybody can do it. It's about people who watch, who think, and who eventually respond."