Astronaut, Sikh commander part of gender-equal & diverse Canada cabinet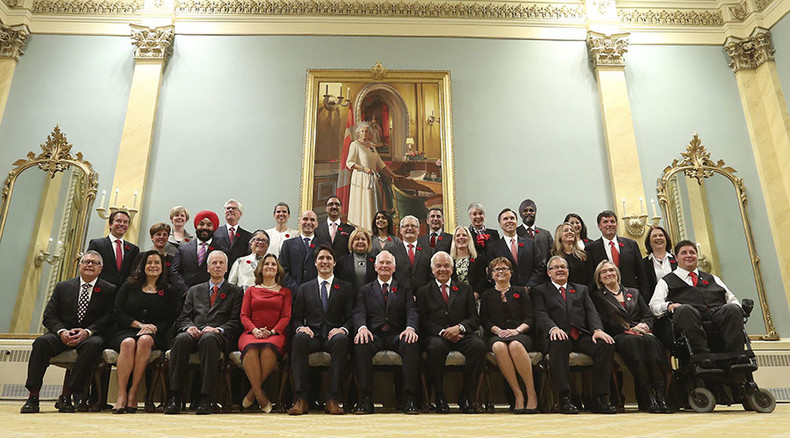 Politicians with some off the most unusual CVs have been appointed to Canada's new cabinet. An astronaut and a Sikh commander are among the ministers. This is also Ottawa's first ministry with an equal number of men and women.
Fifteen men and 15 women are the perfect gender balance, achieved by Prime Minister Justin Trudeau in his newly-appointed cabinet. Women notably occupy some of the key positions. The cabinet is also ethnically-diverse – with two indigenous and three Sikh ministers. It's young as well, with most of the cabinet members under 50.
Speaking in front of the large crowd that had come to see the 43-year-old Liberal sworn in as the 23rd prime minister, Trudeau presented the cabinet as one "that looks like Canada," the Guardian reported.

READ MORE: Keystone & TPP under question as Canada elects Liberal PM
In reply to a question about the gender parity of the government, Trudeau explained it happens to be "Because it's 2015."
International trade is now under the guidance of former journalist Chrystia Freeland.
Afghan refugee Maraym Monsef has been appointed the Minister of Democratic Institutions. She has been hailed as the first Muslim Canadian in cabinet.
Two aboriginal MPs have joined the cabinet. One of them, Indigenous Affairs Minister Carolyn Bennett, is to lead a national inquiry into hundreds of cases of murdered and missing indigenous women.
Among the male ministers, there are some with quite remarkable track records.
The first Canadian in space, a 66-year-old former astronaut Marc Garneau, who has served as Canadian Space Agency president, is now transport minister. Garneau blasted off into space three times aboard Space Shuttle missions in 1984, 1996 and 2000.
Indian-born Harjit Sajjan, the first Sikh lieutenant-colonel of the Canadian Armed Forces, with warfare experience in Bosnia in the 1990s and Afghanistan in the 2000s, has been appointed defense minister.
Another immigrant from India, Amarjeet Sohi, who arrived to Canada in 1981, becomes infrastructure minister. After Sohi returned to India in the late 1980s to study acting, he was arrested on terrorism charges and spent nearly two years in solitary confinement in prison, allegedly being tortured.
A former advocate for the disabled, Kent Hehr, who became a paraplegic in his early 20s following a drive-by shooting incident, is now veterans' affairs minister.
Former Liberal Party leader Stéphane Dion is now in charge of Canada's external affairs.
The truly diverse team is also expected to have more independence than their predecessors under the Conservative Stephen Harper government, as straight after being elected Liberal PM Trudeau said he was looking for a "government by cabinet."
Among the party's election promises were putting an end to Canada's airstrikes in Syria and Iraq, bringing 25,000 Syrian refugees to Canada and amending the anti-terror bill passed by the Harper government. Legalizing marijuana was among other things in its election promises, including a pledge to run budget deficits in order to improve infrastructure.