Canada's Montreal hit with massive student anti-austerity protest (PHOTOS)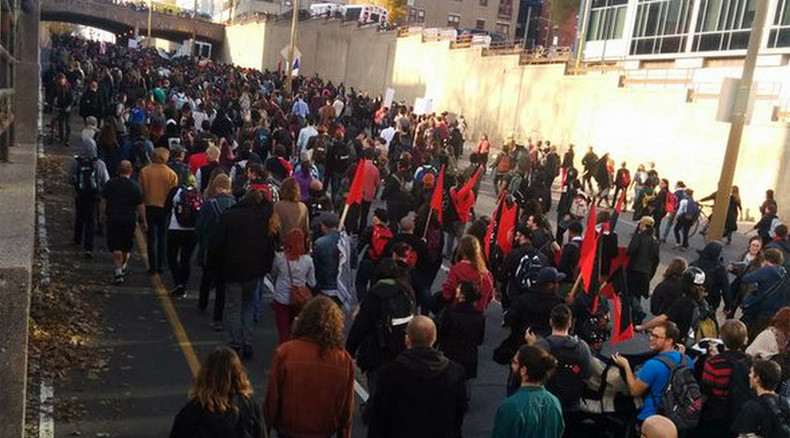 A few thousand students marched through the streets of Montreal protesting the Canadian government's austerity measures and calling for "a massive reinvestment in public services."
Around 2,000 members of a local student organization ASSÉ (Association pour une Solidarité Syndicale Étudiante) took part in a large demonstration against what they call the "pillaging of public services" by Quebec's provincial government. ASSÉ is supported by a number of labor unions across Quebec.
Students are outraged by budget cuts to health care and education.
"We're going to be marching as long as we can to send a clear message to the Liberal government," says the group's spokesperson Hind Fazazi, according to the local CJAD 800 radio station. "We need a massive reinvestment in all our services, in all our public services."
The protest was described as orderly and peaceful. The march began at 1 pm at the Old Port and lasted until 4 pm. Some of the downtown streets were closed for the event.
Police arrested one person during the demonstration, who was later released.
There were jitters prior to the march because protesters had failed to notify police of their route as required by Montreal law.
"I'm here to protest against the rise in fees and for more investment in the public domain," CBC quoted Philippe Normandeau, a student at the University of Sherbooke, as saying. "I'm not really against cuts in the public domain, but I would like to see it more carefully done."
Teachers, civil servants and healthcare professionals also joined the protest on Thursday.
"We support students because they are fighting the same battle we do as teachers, to protect public services and have more money for education," Alain Marois, vice-president of the Fédération Autonome de L'Enseignement (FAE), told CBC. "They were in our demonstration when we were on strike, so we're helping them today."
ASSÉ does not believe the austerity measures are politically motivated, but they affect everyone including students, nurses, teachers, and other public services workers. It wants to see local government actively fighting tax evasion while increasing taxes for large businesses and investing billions of dollars in the public sector.
"It's not just that we want them to have better conditions. Yes we want, but we also want to have better accessible and quality public services," Fazizi added, CTV News Montreal reports.
"It's been three years now at ASSE that we are against austerity and we want the entire population to understand clearly what it means and how dangerous it is," he concluded.
Around 20 different student associations representing over 50,000 students voted in favor of the strike mandate for Thursday. Students boycotted classes and denounced the austerity measures of Philippe Couillard's provincial government.
Five other strikes are being planned for November 12 and 13, and the first three days of December.