Pope pop: Francis' debut album 'Wake Up!' out now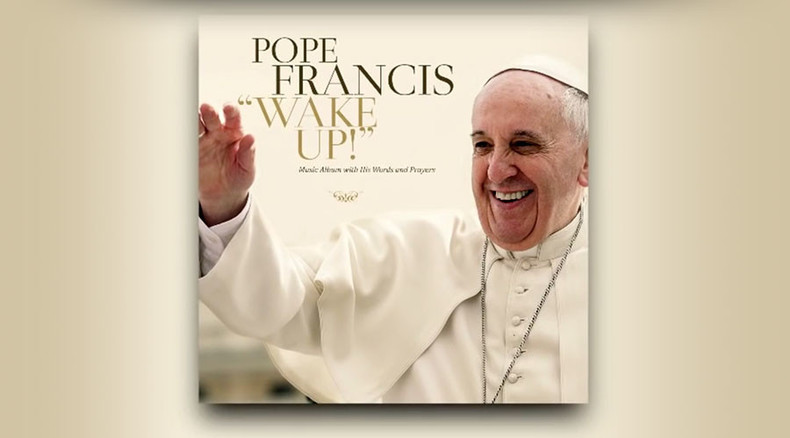 World's number one catholic, Pope Francis, has released his debut Christian music album in Italy, set to debut internationally on November 27.
Called 'Wake Up!', it's a collection of the pope's speeches recorded between 2013 and 2015 all over the world, accompanied by music from different Italian artists and producers.
The 11 tracks on the album are recorded in different styles ranging from Latin chant to pop and rock.
Unsurprisingly there are dozens of albums named 'Wake up' with one exact match from 2010 by John Legend and the Roots. Don't get confused: if it's reggae and soul - it's dope, not pope.
Musical styles aside, it was the 78-year-old Argentinian's down-to-earth attitude that inspired the producers to put the album together.
"The idea was born from the moment that Pope Francis came out on the balcony and said 'Dear brothers and sisters, good evening'. With that 'good evening' I saw that this pope was completely different from all the others ," said producer and artistic director Don Giulio Neroni.
The pontiff's softer stance on Catholic doctrines has made him extremely popular among Catholics and non-believers alike. Noted for his humane approach, he's proven to be closer to the public than any other pope before. To top it off, Pope Francis lives in a guesthouse instead of the papal apartments in the Vatican palace.
We pray for a heart which will embrace immigrants. God will judge us upon how we have treated the most needy.

— Pope Francis (@Pontifex) July 8, 2013
Ten percent of the proceeds from the album will go to charity supporting refugees, in particular Ethiopians camping near Rome's Termini station, comingsoon.it reports.
READ MORE Pope Francis calls on every European parish to host a refugee family
You can share this story on social media: