Get Unlucky? Commandos 'abduct' Russian Army choir singing James Bond Spectre theme (VIDEO)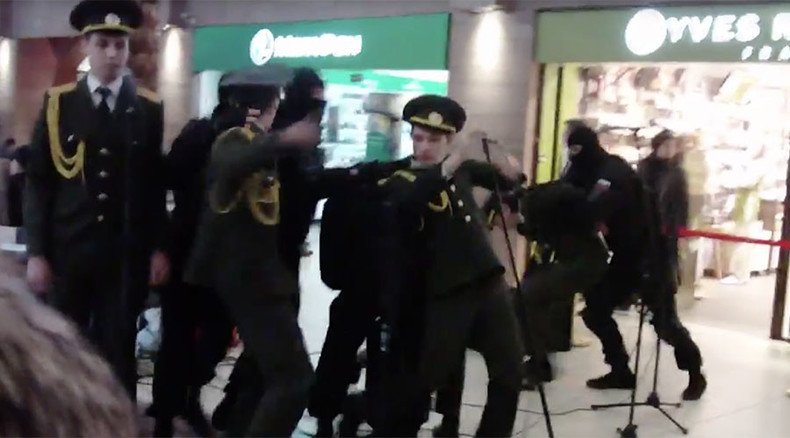 The Russian Army choristers are used to rave reviews for their renditions of pop classics such as "Get Lucky." But a group of commandos took exception to their version of the new James Bond "Spectre" theme, it seems – and "abducted" them mid-song.
Five members of the Russian Army choir were hitting the high notes in their performance of Sam Smith's "Writing's On The Wall," the latest Bond theme hit, when they were suddenly "attacked" in a St. Petersburg shopping center.
'Writing's On The Wall' by Russian Army choir

Russian Army choir detained for Writing on the Wall. Not for vandalism, but for singing the new Bond theme. Could be a viral fake to promote a movie, but there is possibility of a police raid, as copyright laws in Russia become stricter every day.Courtesy: https://www.youtube.com/channel/UCXAf9ZsuI6spbAFVtdrdxVQ

Posted by RT Play on 6 ноября 2015 г.
But rather than an angry reaction from Russian special services, the incident appears likely to be a huge joke – a publicity stunt on the eve of "Spectre" opening in Russian cinemas.
In a video released Thursday, the masked men interrupt the guys in the middle of their performance, putting the uniformed singers on the ground and later taking them away with their hands behind their backs.
The video, widely thought to be a viral marketing ad for the film, comes as the latest Bond film is expected to be big hit in Russia. "Spectre" opens in Russia on Friday November 6.
The Russian Army choir is famous for its versions of pop classics such as "Get Lucky" and Bond theme "Skyfall."
READ MORE: Red Army Choir gets 'Happy' with amazing Pharrell Williams cover (VIDEO)
You can share this story on social media: