Where's Rudolph: Russia's Father Frost robbed of leading reindeer ahead of festivities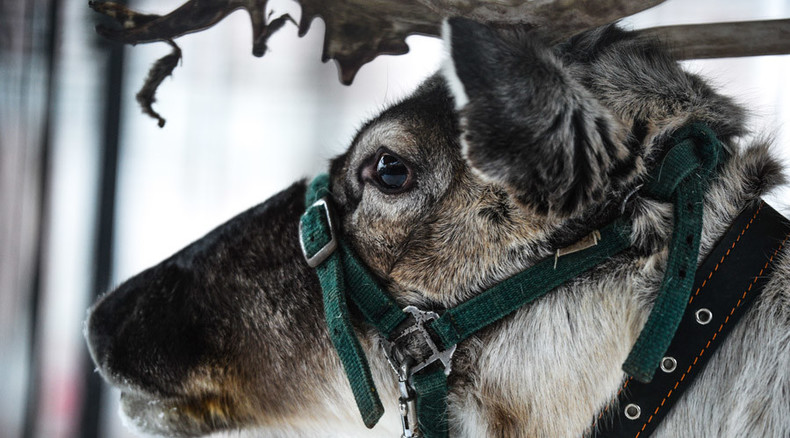 A reindeer has been stolen from a local Father Frost's private farm in the Urals in Nizhniy Tagil. Father Frost's administration believes the dastardly deed may have been perpetrated by a private zoo.
The eight-year-old animal, called Bugor, was the leader of the pack in Russian Santa's sleigh.
"The thief is definitely not just a passer-by and has experience with reindeer," the director of Father Frost's Ural residence, Natalya Skorokhodova, told Russian media.
She also said there aren't that many people in the region who know how to handle reindeer.
READ MORE No 'Bad Santas' for Uzbekistan: Father Frost thrown out from local TV
Father Frost's entourage believes the Grinch came from a private zoo and that it was a planned crime.
Santa-themed crimes aren't new: crooks use the general festive ambience to their own advantage, from pickpockets flocking to busy streets thronged with people ready to part with cash on presents, to more serious cases of murder and poisoning.
In 2012, a man dressed as Santa Claus offered free drinks in Berlin's holiday markets, poisoning his victims with a date-rape drug that caused temporary memory loss. He was never caught.
That same year the head of the Orthodox Church Association was murdered in Jaffa by a man wearing a Santa's outfit during a parade celebrating Christ's nativity.
In 2011, a divorced Texan dressed up as Santa Claus to pay a visit to his ex-wife and her family. He murdered everyone present and then killed himself. He had apparently been upset by how well his wife had been doing after the divorce.
In a more recent and less gruesome case, a post office worker in New York was found guilty this October for rigging "Operation Santa," which tracks letters sent to Santa Claus via the NYC post and accepts gift donations for items requested by underprivileged children. Mahogany Strickland redirected at least three packages containing snow boots, clothing and a toy train, to her home.
And finally, the infamous Santa Claus Bank Robbery, which took place in Texas in 1927, invoked the largest manhunt seen in the state to this day.