Russian jet crash in Egypt: First bodies brought to St. Petersburg
A Russian Emergencies Ministry plane has brought some 140 bodies from Cairo to St. Petersburg, where forensics experts are set to examine the remains of the Sinai crash victims. Families will help identify and get a chance to say goodbye to their loved ones.
LIVE UPDATES: Russian passenger jet crash over Sinai: Aftermath, reactions
The Il-76 aircraft, with a sorrowful cargo of 144 out of the total 224 crash victims' bodies, has landed at St. Petersburg's Pulkovo airport. It took The Russian Emergencies Ministry's jet some six hours to get back to Russia from Cairo airport, where the body bags had been carefully loaded onto the plane.
Relatives will now go through the painful process of identifying the bodies which will be conducted at one of the city's crematoriums. The identification procedure will be conducted with the aid of over 50 forensic scientists. Over 200 DNA samples have already been gathered from among the victims' relatives to identify the remains.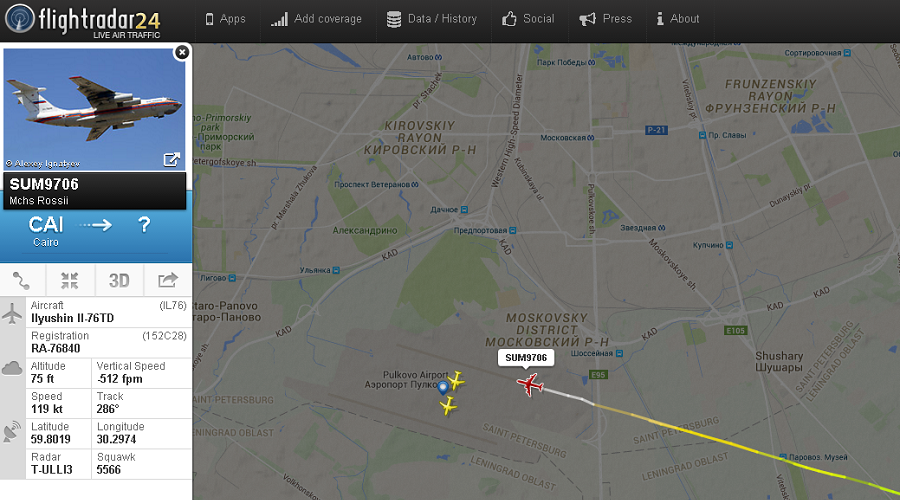 Psychologists will accompany the families of the victims on board special buses that have been arranged to take them from the airport to the crematorium, where the first death certificates will be handed out. The relatives who have had to fly to St. Petersburg from other parts of Russia as well as Ukraine and Belarus have been offered accommodation, as well as psychological and medical aid.
A Kogalymavia Airbus A321 passenger airliner, carrying217 passengers and seven crew members on board, crashed in the Sinai Peninsula in Egypt on Saturday, leaving no survivors. A specially assembled emergency team of Russian experts are working at the crash site trying to determine the causes of the crash. The plane went down suddenly, just over 20 minutes after take off.
LISTEN MORE:
READ MORE: Flight 7K9268: What we do and don't know about Russia's deadliest-ever air crash
The Russian Emergencies Ministry intends to use drones in order to inspect an area of more than eight square miles over which debris is scattered, while the Egyptian authorities are offering their cooperation. One of the primary tasks now is to decipher the two black boxes that have been found at the crash site in the center of Sinai Peninsula.
The Russian inter-departmental working group on the ground is being joined by Airbus, and French, German and Irish aviation authorities' experts who have offered their help in investigating the circumstances of the flight 7K9268 crash.
You can share this story on social media: