Balloons and candles: St. Petersburg mourns victims of Sinai air crash (PHOTOS)
Hundreds of people flocked to the main square in St. Petersburg, Russia, on Saturday to mourn the victims of the Sinai plane crash, releasing balloons and lighting candles as night descended on the city.
Despite the rain, whole families arrived at Dvortsovaya Ploschad ('Palace Square') to pay their respects to the 224 passengers and crew members who died on Kolavia flight 7K9268.
LIVE UPDATES: Russian passenger jet crash over Sinai: Aftermath, reactions
The packed A321 airbus was returning from Egypt's Sharm El-Sheikh resort, bound for St. Petersburg on Saturday morning when it suddenly vanished from the radar over the Sinai Peninsula.
The people laid flowers at the food of the towering Alexander Column, topped with a statue of an angel holding a cross, which is the focal point of Dvortsovaya Ploschad.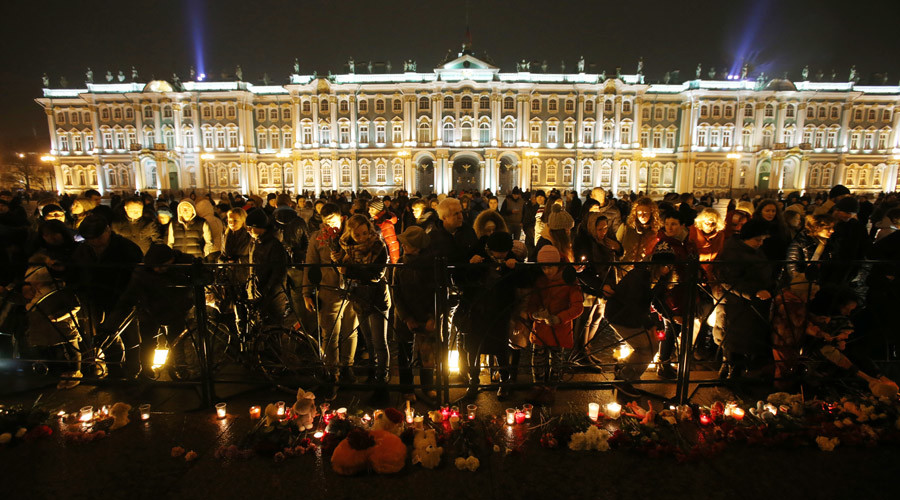 A moment of silence for the victims was observed by the crowd. Red balloons were released into the St. Petersburg sky. According to TASS, there were exactly 224 of them.
The mourners also took flash lights in their hands and formed the word "MAMA" in the center of the square.
"Let this tragedy teach us unity, teach us to be closer to each other and to remember those, who are near us … we meet from time to time and think that everything is OK, but we lose our close ones and we'll never see them again. Therefore, all those who are still alive, should remember their loved ones, their friends, not only when they need something from them, but simply because they exist," one of the people attending told TASS.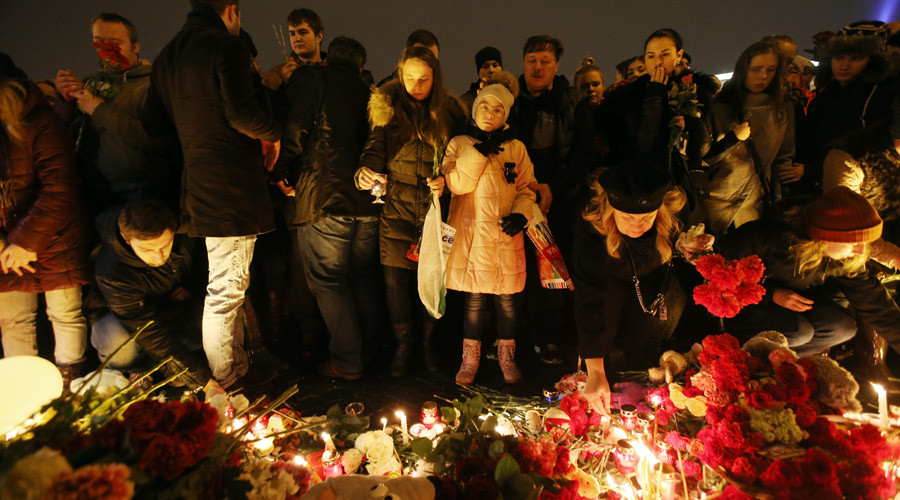 "It could've happened to any of us. It's very scary. I feel so sad for all the victims," another mourner added.
Sunday was declared a day of mourning across Russia, while St. Petersburg is going to mourn the loss of its citizens for three days.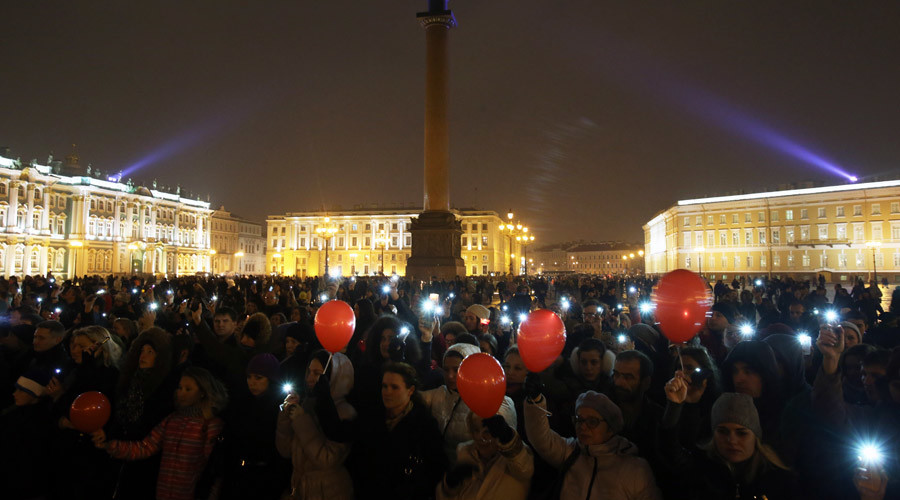 One hundred and twenty three people aboard the Kolavia flight 7K9268 flight were from Saint Petersburg, with another 46 living in the nearby Leningrad Region.
Earlier on Saturday, dozens of people laid flowers, candles and toys at an improvised memorial at Pulkovo Airport where the ill-fated flight was supposed to land.
In other countries (Syria, Belarus, Ukraine and Poland among them) people flocked to Russian embassies to lay flowers and commemorate the victims.