Thousands rally in Hebron funeral procession for 5 Palestinians 'killed by IDF' (PHOTOS)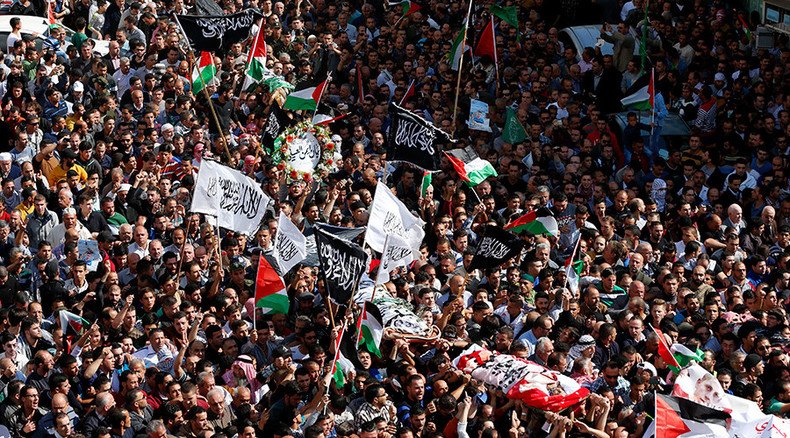 Thousands have marched through Hebron on the West bank in a funeral procession to commemorate five Palestinians allegedly killed by Israeli forces a few weeks ago. Earlier, their bodies were returned to the Palestinian authorities.
Social media was flooded with photos and videos of scores of Palestinians taking part in the demonstration.
READ MORE: Live ammo & Molotovs: Dozens of Palestinians injured in vicious clashes with Israelis (VIDEOS)
The bodies of Dania Irsheid al-Husseini, 17, Bayan Ayman al-Essili, 16, Tariq Ziyad al-Natsha, 16, Hussam Ismail al-Jabari,17, and Bashar Nidal al-Jabari, 15, were returned to Palestine on Friday, according to the Maan news agency.
All of them were reportedly involved in attacks in Hebron earlier in October. Their funeral was scheduled to take place in the al-Shuhada cemetery in Hebron's al-Sheikh neighborhood on Saturday.
Israeli authorities also returned the body of 22-year-old Mutaz Atallah Qassem. An IDF soldier reportedly killed him on October 21 near Jerusalem. He was laid to rest on Friday.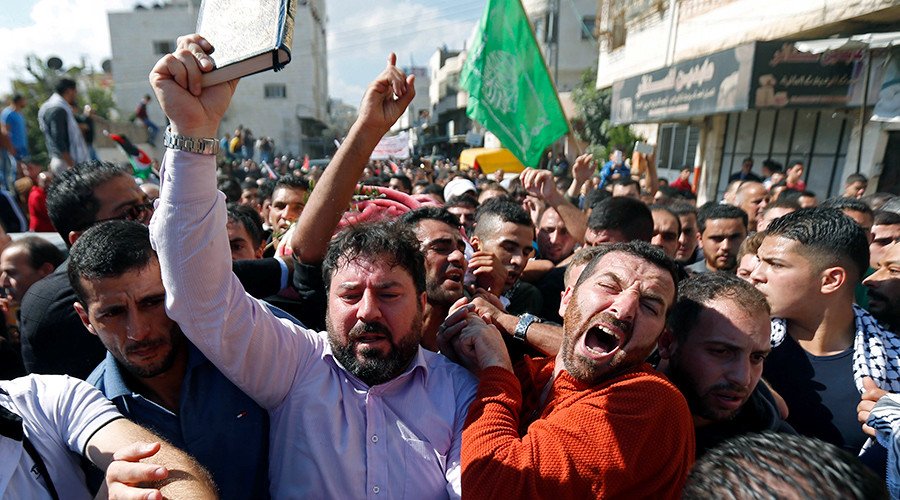 READ MORE: 5 Palestinians killed by Israeli forces amid concerns of escalating standoff
Violence has recently escalated across the occupied Palestinian territories and Israel. Dozens of Palestinians have been killed by the IDF. During the same period, at least 11 Israelis have also died in attacks.
The UN Security Council is set to discuss a draft resolution, which demands both Israel and Palestine take steps "to end the violence, avoid incitement and protect civilians." It calls on both parties to refrain from "provocative acts, including acts which threaten the historic status quo of holy sites in Jerusalem."
You can share this story on social media: