Israeli jets target two Hamas sites after rocket fired from Gaza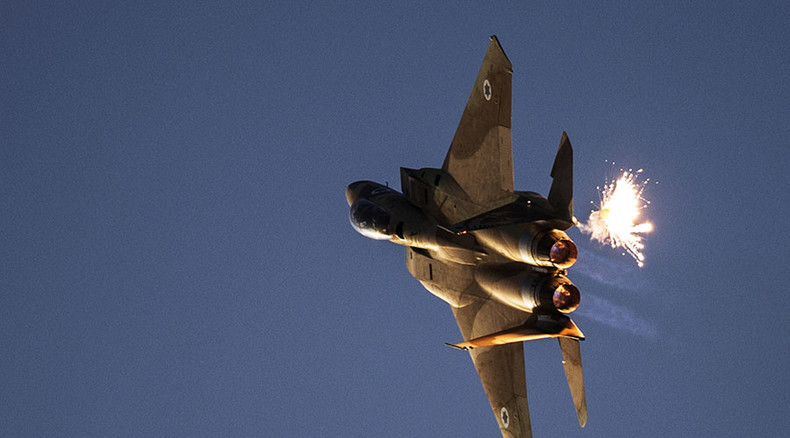 The Israeli Air Force carried out a strike against two "Hamas terror sites" in southern and central Gaza after a rocket launched from the territory landed in Israel. The rocket did not cause any casualties.
No one has taken responsibility for Monday's launch from Gaza so far.
Last year 450 rockets were fired at Israel's from Gaza, and a rocket from the territory landed in the south of the country last Wednesday.

The Sheikh Omar Hadid Brigades, a pro-Islamic State Salafist group operating inside Gaza, which claims that Hamas members are "traitors" and "collaborationists", has been behind most of the recent attacks, in what the IDF says is an attempt to provoke Israel into responding.
In response to this evening's rocket fire, the IAF targeted two Hamas terror sites in Gaza.

— IDF (@IDFSpokesperson) October 26, 2015
READ MORE: Israeli jets strike Gaza after rocket fire pinned on Hamas
Moments ago, a rocket launched from Gaza landed in an open area. No injuries reported. Forces searching the area.

— IDF (@IDFSpokesperson) October 26, 2015
However, Israeli officials hold Hamas responsible for any attacks originating from Gaza, with IDF spokesman Lt. Col. Peter Lerner saying that the group should face "consequences" if it cannot enforce its responsibilities.
Following today's rocket attack from #Gaza, #IDF targeted 2 Hamas locations. Hamas is accountable for all attacks emanating from the strip.

— Peter Lerner (@LTCPeterLerner) October 26, 2015
"The intolerable reality of civilians continually living under the threat of Gaza rockets is unacceptable, unbearable and must stop," Lerner said. "Hamas must enforce their responsibilities or face the consequences. We will act against those that attack us and hold those that enable attacks against Israel accountable."