Blacks-only seats in Kiev football matches? Stadium boss advocates segregation to fight racism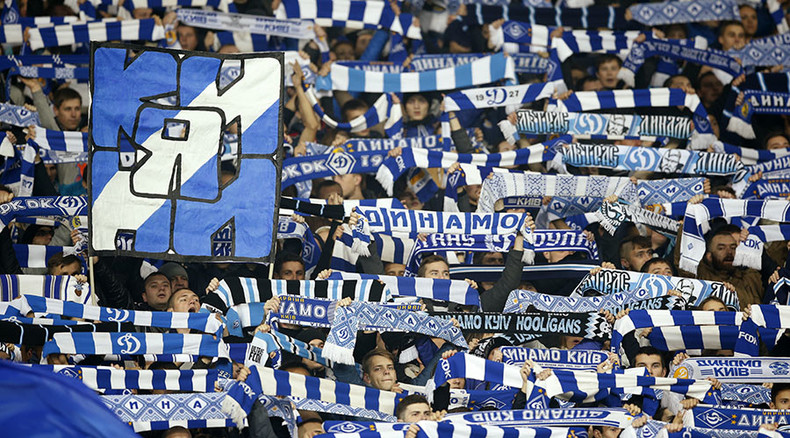 What is the best way to avoid racism scandals involving ultras? The head of a stadium in the Ukrainian capital has decided that creating a separate stand for black fans could be the solution.
A Champions League game between Dynamo Kiev and Chelsea on October 20 was marred by huge scandal after supporters of the Ukrainian team were accused of beating and humiliating Chelsea's black fans.
But the head of Kiev's Olimpiysky stadium, which hosted the match, said the guests actually provoked the attack themselves by appearing near the ultras' stands. According to Vladimir Spilnichenko, this was not the first example of incendiary behavior by visiting supporters during the 2015/16 Champions League campaign.
"In the course of the previous [Champions League] match against FC Porto, the dark-skinned people also appeared near the ultras' stands. They were met by fans themselves and guided to the other end of the stadium," he told Ukraine's 2+2 channel in remarks which appeared online on Monday.
"The administration of the arena and its security officials approached those dark-skinned guys and even offered them to change seats for those on the central stands where the tickets are more expensive. But our requests were ignored," the Olimpiysky stadium executive director said.
The 2+2 correspondent than suggested a solution to curb "provocations" by the black fans, saying that maybe a "special stand" should be made for them at the Olimpiysky Stadium.
The reply from Spilnichenko was full of enthusiasm as the stadium's boss agreed that it was "a good idea."
"We'll most likely consider you proposal. We'll do well by them (the black fans) and maybe create a separate stand in order to avoid racism," he said.
READ MORE: Ukrainian, Polish fans brawl with flares, knives ahead of Europa League match (VIDEO)
The attack on four black men by radical Dynamo Kiev fans was caught on video, causing international uproar. The beating, during which the victims were brought down and kicked, went on for nearly two minutes before Olimpiysky's security interfered.
European football's governing body, UEFA, charged Dynamo Kiev with racist behavior and crowd disturbances after the incident.
READ MORE: 'Rabid dogs, militiamen': French condemn ultras attack on fans in Kiev
UEFA's Control, Ethics and Disciplinary Body will make a ruling on the case on October 27, with Ukrainian media alleging that Kiev's side may be punished by point reduction or even expulsion from the Champions League.