Deadly 7.5 earthquake hits Afghanistan, Pakistan & India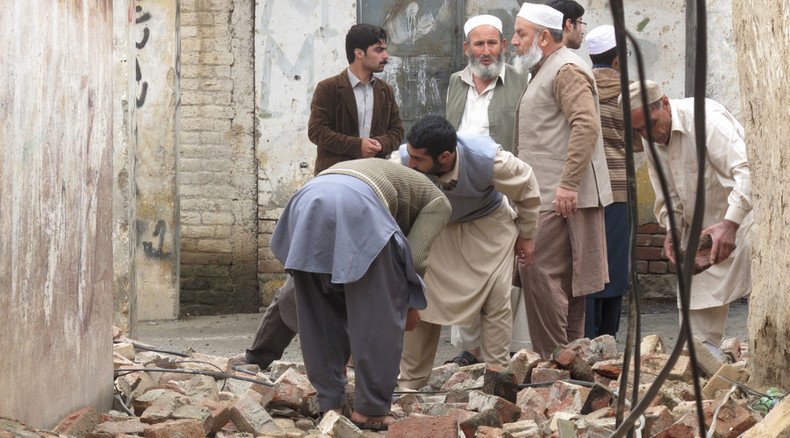 27 October 2015

22:13 GMT

In Afghanistan the death toll reached at least 115, said Sayed Zafar Hashemi, President Ashraf Ghani's deputy spokesman. At least 4,000 houses and compounds have been destroyed or damaged, according to Afghan Chief Executive Abdullah Abdullah.

26 October 2015

19:04 GMT

Pakistani officials have increased the country's death toll to 228, meaning that the total number of people killed in the earthquake currently stands at 282, AP reported.

18:36 GMT

The US contacted Pakistani officials and offered its help in alleviating the consequences of the earthquake.

"We are in touch with the National Disaster Management Authority and we are ready to provide assistance if requested," a statement issued by the US embassy in Islamabad said.

"We extend our deepest condolences to the victims and those who lost loved ones as a result of today's earthquake, in Pakistan and throughout the region," it added.

17:25 GMT

The UN is prepared to send assistance to Afghanistan and Pakistan to participate in their relief efforts, UN Secretary General's spokesman, Stephane Dujarric, said, according to TASS.

"The UN [is]ready to grant aid, if there is a corresponding request," he said as quoted by TASS. Dujarric also added that the consequences of the quake were "relatively low" due to the "low density of population" in the affected areas. In the meantime, UN agencies have started gathering supplies for the people affected by the quake.

17:21 GMT

According to new data, more than 200 people were killed in the earthquake, after Afghan officials announced that the death toll from the disaster in their country stood at 52, Reuters reported.

At the same time, the head of the Khyber Pakhtunkhwa Provincial Disaster Management Agency, Amer Afaq, said that as many as 167 people died in Pakistan as a result of the earthquake. According to Pakistan's military spokesman, General Asim Bajwa, 1,000 more Pakistanis have been injured, Reuters reported.

17:04 GMT

A footage by Ruptly video agency shows how the earthquake hit Pakistan, people waiting in the streets and the aftermath.