Japanese Yakuza cancels traditional Halloween handout for kids among fears of new gang war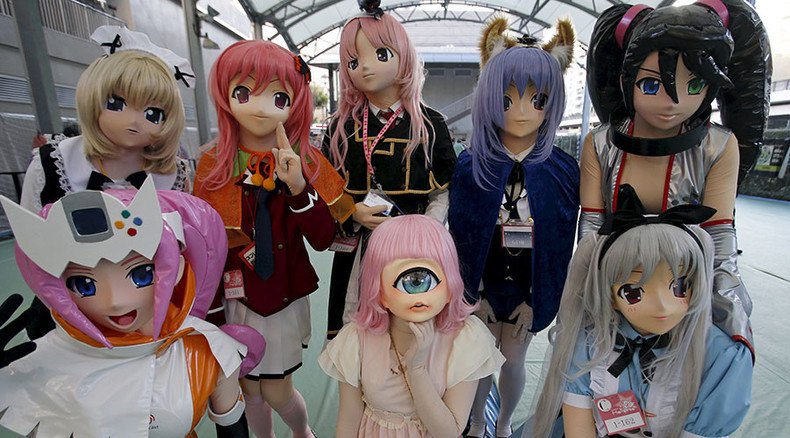 Japan's largest organized crime syndicate, Yamaguchi-gumi, has announced that it will not hand out sweets to trick-or-treating children this year, suspending an eccentric tradition that has brought positive publicity to the gang in the past.
"Every year on October 31st, as per custom, we have held a Halloween event, but this year, due to various circumstances, the event has been called off," said a sign posted at the door of its official Kobe headquarters, where last year several gang members handed out pink plastic goody bags to all comers.
"We realize this is causing great regret to those parents and children who looked forward to this, but next year we absolutely will hold it again, so please look forward to that."
While the note doesn't elaborate on the "various circumstances," most of Japan's crime observers say a potential turf war with an insubordinate offshoot has made Yamaguchi-gumi wary of courting attention and risk.
"If they gather the neighborhood children and an incident occurs, the boss would be pursued for responsibility," Atsushi Mizoguchi, a journalist focusing on crime, told the Japan Times.
"There was almost no media attention last year. But it would create havoc this year," Tomohiko Suzuki, another writer specializing on the Yakuza, said to the newspaper.
Founded exactly 100 years ago, Yamaguchi-gumi made its fortune through extortion, illegal gambling, money laundering, drug dealing and, lately, more technologically sophisticated crime. Like the mafia in the US, the syndicate presents itself as a benign organization by performing altruistic acts for the community such as helping with emergency relief following the Kobe earthquake of 1995, and handing out envelopes of cash during festivals.
"Halloween is a way for the Yamaguchi-gumi to remind people that the old guard has always been careful to get along with the local populace and that they're not all bad," a Hyogo police detective confidentially told the Daily Beast.
"It's a very cost-efficient form of PR for them. The candy is cheap and they don't even need to spend money on costumes. Most of them have faces so scary already that they look like monsters without doing anything at all."
Yamaguchi-gumi is composed of 24,000 members, almost 45 percent of all the gangsters in Japan, according to an official police estimate. However, that number is just over half of the group's membership of a decade ago. Increasingly stringent legislation – punishing not only gang members, but also businesses who deal with them – has decimated the syndicate at home, while US authorities have clamped down on Yakuza's international banking operations.
"There was a time when the Yakuza were thought to be a necessary evil. They aren't necessary anymore," summed up Hideaki Kubori, a well-known anti-crime lawyer, in a public meeting earlier this month.
The pressures, and arguments about where the beleaguered gang's geographical center of operations should be have led to the formation of a breakaway rival, thought to number a third of Yamaguchi-gumi's membership, in late August.
With police noting that guns have quadrupled in price on the black market, there is fear that a power struggle could be on the horizon. A conflict in the 1980s resulted in 30 murders and over 500 prison sentences for gangsters.
"A split will mean less revenue for the Yamaguchi-gumi, and the yakuza by nature won't tolerate losing face like this," Hiroyuki Uematsu, a police detective, told the Wall Street Journal last month.
With the police more vigilant and enemies everywhere, this is no time for a celebration, even one as ghoulish as Halloween.
You can share this story on social media: