Abrams tanks and Bradley vehicles: US heavy military equipment arrive in Estonia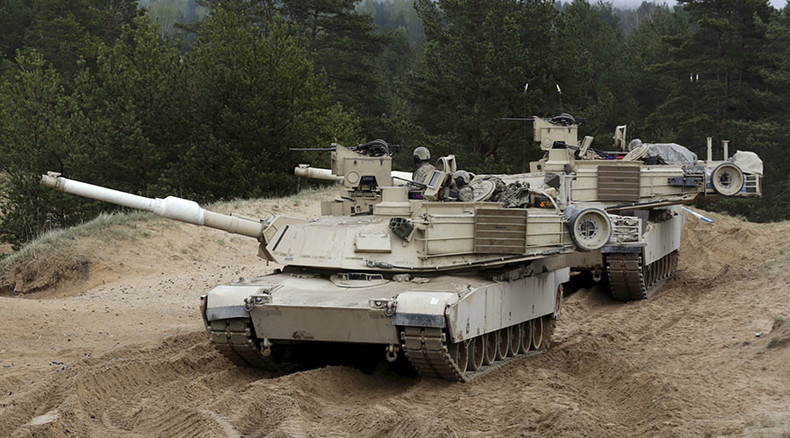 The first batch of heavy US military vehicles has been shipped to Estonia and is due to arrive at a NATO base on October 26, General Staff of the Estonian Defense Forces says.
The shipment contains 40 pieces of military equipment, including four M1A2 Abrams tanks and ten Bradley armored vehicles. It was delivered from Latvia to Estonia by rail and is earmarked for the company-sized unit of the US 3rd Infantry Division that will replace another US unit previously deployed in the country.
The new US troops being rotated in were deployed at a military base in the Estonian town of Tapa on Friday, local media report.
Another batch of military equipment will be delivered to Estonia on October 26. It will include two combat engineer vehicles as well as some operational support equipment.
Three Paladin 155mm self-propelled artillery platforms have also been allocated to the new US unit in Estonia, but they will arrive at the Tapa base only in mid-November, Estonian media report, citing Captain Arvo Joesalu, information officer at the headquarters of the defense forces in Tallinn.
READ MORE: NATO's Baltic Piranha 'assurance drills' kick off in Lithuania

The US troop rotation in Estonia is part of the US' Operation Atlantic Resolve, a series of measures reportedly intended to "reassure NATO allies and partners of America's dedication to enduring peace and stability in the region in light of the Russian intervention in Ukraine."
Since Russia's reunification with Crimea and the outbreak of a military conflict in eastern Ukraine last spring, NATO has stepped up its military presence along Russia's borders with the Baltic States and Eastern Europe, and conducted a series of drills in Europe, including the first testing of its missile defense system.
LISTEN MORE:
READ MORE: First time in Europe: US Navy successfully intercepts missiles during war games (VIDEO)
Russia's Foreign Ministry has repeatedly criticized NATO's military buildup in neighboring states, saying it is being carried out "under the false pretext of alleged 'aggressive behavior' by our country" and has been accompanied by "unfriendly and malicious" rhetoric.