NATO's Baltic Piranha 'assurance drills' kick off in Lithuania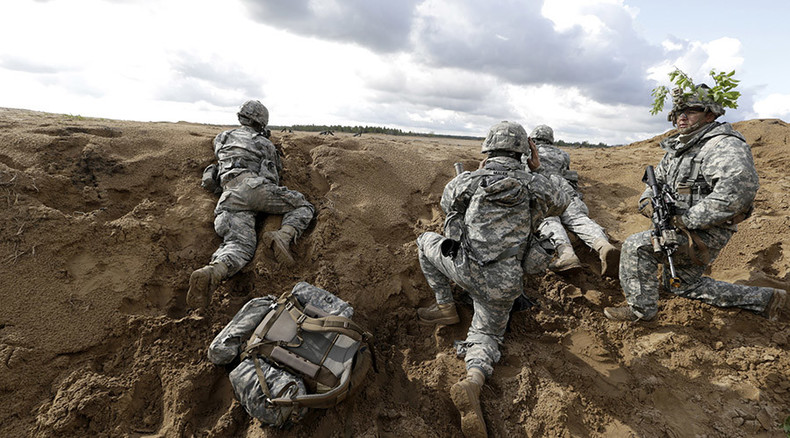 Nearly 1,000 soldiers and around 100 pieces of military equipment have been deployed in Lithuania as part of the month-long Baltic Piranha military exercise taking place in the framework of NATO's "assurance measures," launched in response to perceived "challenges" posed by Russia.
The war games, which will last until October 28, will see 500 Lithuanian soldiers join forces with Belgian, American and Luxembourgian troops.
Some 280 soldiers from Belgium and 45 from Luxembourg have brought with them their own hardware to test it in action as part of the NATO Rapid Reaction Force. Belgians have arrived on board armored Piranha infantry vehicles, while Luxembourg's soldiers delivered Dingo II reconnaissance vehicles.
The joint Belgian and Luxembourg company will train to provide support for the US Army's 12th Combat Aviation Brigade soldiers. Currently around 200 US troops are stationed in the country on rotation.
"The exercise will include moving on public roads and parts of it will take place near populated areas, including meetings with local civilian institutions and people," the Lithuanian Defense Ministry said in a statement.
The war games will take place at the Kairiai training ground near Klaipeda, and the firing range at Pagegiu, in addition to other facilities throughout the country.
US 'preparing' for hybrid warfare with Russia in Baltics – report
The Baltic Piranha war games are part of the "assurance measures" agreed at the NATO Summit in Wales in 2014.
24 generals from 13 NATO countries gather in Latvia to train joint operations
Since Russia's reunification with Crimea and the outbreak of military conflict in eastern Ukraine last spring, NATO has stepped up its military presence along the Russian border, including in the Baltic States and Eastern Europe.
READ MORE: Polish MPs approve 'technical agreement' on US anti-missile base
Russia views NATO expansion and constant military activity along its borders as hostile and destabilizing.
LISTEN MORE: