S. African police fire tear gas, water cannon at thousands of students protesting fee hikes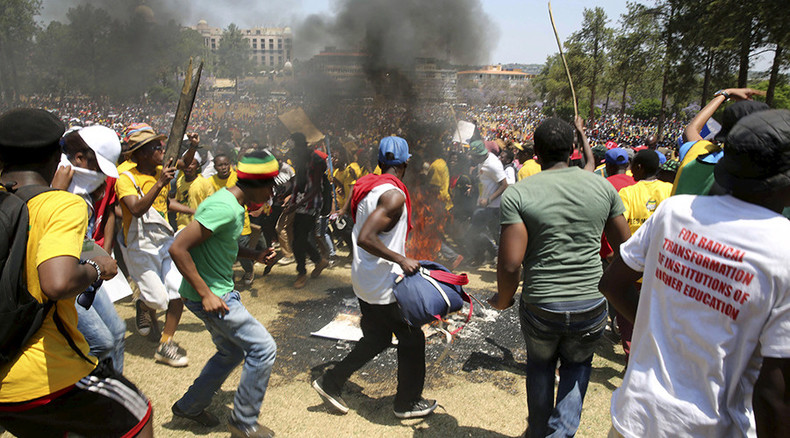 South African police have fired tear gas, stun grenades and water cannon at student protesters, many of whom threw stones and lit fires while demonstrating against proposed university fee hikes. It's the latest in a week of similar rallies.
As the Friday protest in Pretoria was underway, President Jacob Zuma announced that he was ruling out the possibility of 2016 fee increases, which would have seen tuition rise by up to 11.5 percent.
Some of the demonstrators, many of whom were driven to the site by bus, gathered outside the Union Buildings, pushed through a police cordon before being pushed back by riot officers.
The mainly black students danced outside the premises, singing: "We the students dream of free education. We are not afraid of the police, our fight will win," Reuters reported.
As the protest was underway, Zuma was taking part in a meeting with student leaders and university management.
"The meeting will discuss the current countrywide impasse between universities and students regarding the proposed annual fee increments," the president's office said ahead of the talks.
After the meeting, Zuma's office said the government had "agreed that there will be a zero percent increase of university fees in 2016." The president declined to address students directly, with South African state security sources telling Reuters that "it was not safe" to do so.
Zuma's office stated, however, that issues were raised at the meeting which need to be resolved in the long run, Africa Review reported. Zuma has set up a task force to look into issues surrounding higher education.
While the decision is seen as a victory for the student activists, many were upset that the president refused to address them directly.
"We are just disappointed the president didn't come out to address us. Otherwise we are happy our efforts have brought results," a Wits University student said.
But not everyone is likely to be happy with the decision, as many students have been pushing for free education in South Africa.
"We should be having free education," 18-year-old Bongani Shabangu, who is studying education at a university in Pretoria, said before the announcement, as quoted by the Guardian. "Most of us are from poor families."
Students previously rejected a proposal which would have seen the government cap increases at 6 percent – a decrease from the 10 to 12 percent proposed by universities.
Tuition fees in South Africa vary across universities, but can run as high as US$4,500 a year for medical students. Universities have said they need higher fees to keep up standards, and urged the government to find the extra money. The government previously stated that it could not afford the free education that many were demanding.
Inequality is a factor of the protests, with white households earning on average around six times more than black households, according to official figures. Many white students have joined the protests in solidarity.
The Friday protests follow a week of similar demonstrations throughout the country, in one of the biggest student movements to take place since South Africa rejected white minority rule in 1994. Many have speculated that the protests are showing a growing disillusionment with the governing African National Congress (ANC), which took power after minority rule ended.
A Tuesday demonstration turned violent when protesters attacked a man and overturned his car, claiming he deliberately drove his vehicle into the crowd, injuring one person.
The demonstrations resulted in South Africa's currency, the rand, hitting a 3.5 week low against the dollar on Friday.