US & allies demand UN 'action' against Iran after missile test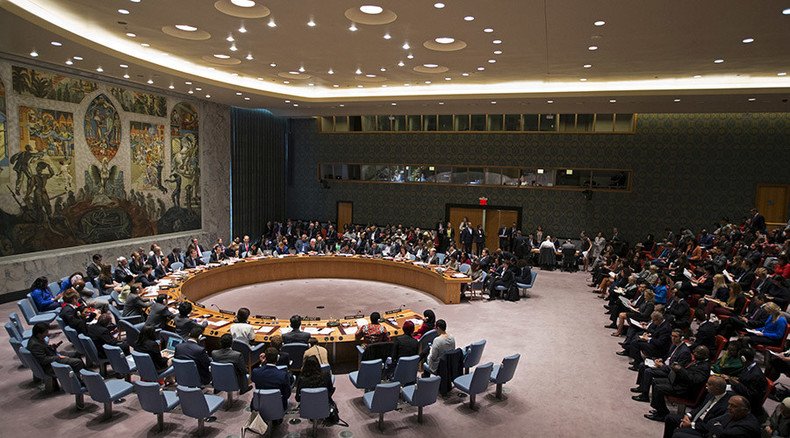 The US along with the UK, France and Germany have urged the UN Security Council's Iran sanctions committee to take "appropriate action" after Tehran's recent missile ballistic test, which the West called a violation of a UN ban.
The four countries reportedly sent a letter to the committee stating that the ballistic missile used by Iran was "inherently capable of delivering a nuclear weapon."
"We trust that this information will assist the committee in its responsibility to examine and take appropriate action in response to violations of UN Security Council resolutions," the letter seen by Reuters said.
The document was sent out after the issue was brought up by the US at the UN's Security Council meeting. Some of the propositions voiced against Iran at the UN included new sanctions that would add more Iranian individuals or entities to the blacklist if the UN concludes Iran breached the ban.
On October 11, Iran's Defense Ministry revealed that it test-fired a long range surface-to-surface ballistic missile known as 'Emad' (Pillar).
"The Emad missile is able to strike targets with a high level of precision and completely destroy them ... This greatly increases Iran's strategic deterrence capability," Defense Minister Brigadier-General Hossein Dehqan told IRNA news agency.
He added: "We don't ask permission from anyone to strengthen our defense and missile capabilities … Our leadership and armed forces are determined to increase our power and this is to promote peace and stability in the region. There is no intention of aggression or threats in this action."
Following the test, the US said that Iran was "inherently capable of delivering a nuclear weapon," with the US ambassador to the United Nations, Samantha Power, calling it a "clear violation of UN Security Council Resolution 1929."
In an October 16 statement, Power said the US was going to report to the Security Council's Iran Sanctions Committee and bring the incident up for discussion with Security Council members "in the coming days."
"The United States will continue to press the Security Council to respond effectively to any future violations ... Full and robust enforcement of all relevant UN measures is and will remain critical," Power said.
Iran has denied that the missile could be equipped with a nuclear warhead.
"None of the Islamic Republic of Iran's missiles has been designed for a nuclear capability," IRNA quoted Iranian Foreign Minister Mohammad Javad Zarif as saying Saturday.
A 2010 Security Council resolution, which ceases to have effect after the nuclear deal between Iran and six world powers is fully implemented, prohibits Iran from pursuing any activity related to ballistic missiles that could be equipped with a nuclear warheads.
The nuclear deal with Iran was signed July 14. It promises to lift majority of the sanctions against Iran in exchange for the country curtailing its nuclear program. Upon full implementation, the missile ban would be lifted and the UN would simply be "calling upon" Iran to stay away from developing ballistic missiles that could carry nuclear weapons for up to eight years.
The nuclear deal is expected to come into effect by the end of 2015.
Iranian Supreme Leader Ayatollah Ali Khamenei approved the nuclear deal on Wednesday, ordering it to be implemented subject to certain conditions, his website says.
Last week the Iranian parliament voted in favor of the nuclear deal, on the condition that international inspectors will only have limited access to Tehran's military facilities, IRNA reported.
You can share this story on social media: