Argentina's Kirchner: 'Putin is global leader in fighting terrorism'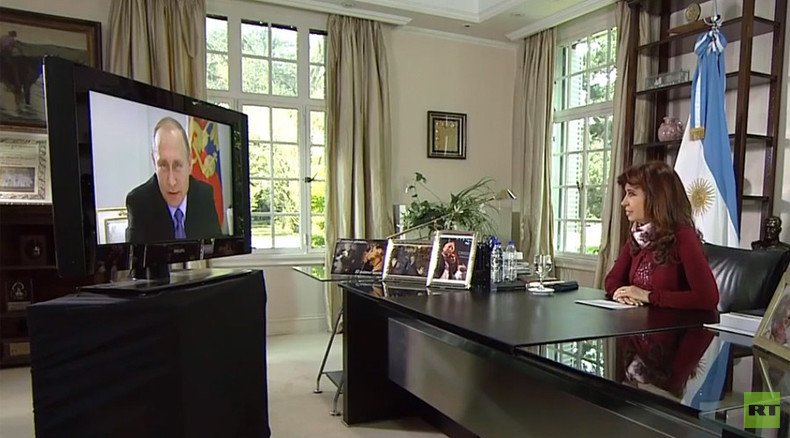 Russian President Vladimir Putin plays a key role in fighting global terrorism, his Argentinian counterpart Cristina Fernandez de Kirchner told RT, after speaking with the Russian leader on Wednesday.
The two presidents held a video conference to mark 130 years of diplomatic relations between the two countries, and discussed Russian-Argentinian partnership in a number of fields.

Having highlighted political and economic cooperation, as well as cultural exchange, Putin said that the countries' current bilateral relations should help "develop the strategic partnership" further.
"Russia and Argentina closely cooperate in the United Nations and G20, consistently asserting basic principles of international law, respect for national sovereignty and non-interference in domestic affairs," Putin said, adding that Moscow and Buenos Aires have also taken consistent stands on "non-acceptance of terrorism and extremism, double standards and the policy of sanctions."

Cristina Fernandez de Kirchner agreed that the two states share a common view on international relations and the way "the global democracy should be built these days."
"There is no place for diplomacy of double standards, when one thing is said and another is done. This is why Putin's speech at the UN General Assembly was really excellent," Argentinian president told RT in an exclusive interview after the video conference.
"The decision [to participate in the fight against ISIS] has made him a global leader in fighting terror in front of the entire world," Kirchner told RT.
Putin also talked about a number of joint economic projects, including arrangements with such Russian energy giants as Gazprom, Rosatom and other companies, as well as cooperation in agriculture, mentioning increasing beef exports from Argentina.

He expressed hope that after the Argentinian national elections on Sunday, the two countries will remain on the same course, while Kirchner also praised the "fruitful" relations between the two nations. "The tree has given its fruits, so this tree should be watered further," she said.
Russia's president thanked the Argentinian leader for supporting the Russian diaspora – the largest in Latin America – pointing out that over 300,000 Russians now live in Argentina.

He also said he was "happy that the popularity of the Spanish version of Russia's RT television channel is growing in Argentina," reminding his counterpart how it was launched in the country as the result of a mutual effort last year. In October of 2014, RT became the first foreign channel to start broadcasting in Argentina as part of Buenos Aires's program to develop digital television.
"We should be hearing different voices... RT is a new voice in Latin America, new voice in Argentina... which helps us hear all and be aware of various points of view," the Argentinian president told RT, saying that the RT Spanish's signal covers up to 90 percent of the country's territory.
You can share this story on social media: