RT launches nationwide broadcasting in Argentina
RT Spanish started broadcasting in Argentina on Thursday, which makes it the first foreign TV channel on national television in the Latin America country. It will be available for over 80% of the country's 42 mln population.
A joint initiative of the two countries was made possible by the presidents of Russia and Argentina, Vladimir Putin and Cristina Fernandez de Kirchner, who inaugurated the 24/7 broadcast during a video conference.
President Putin said he was sure that "the launch of a Spanish-language Russian channel in Argentina will make Russia much more understandable and will promote the further rapprochement between the peoples of our countries."
Argentinian President Cristina Kirchner said "We are really glad to welcome RT Spanish in Television Digital Terrestre (TDA), which is available all over the country."
"Harsh information wars and attempts of some countries to monopolize the truth and use it in their own interests have become a sign of modern times," Putin said stressing that "in these circumstances alternative sources of information are particularly in demand. RT is definitely one of them."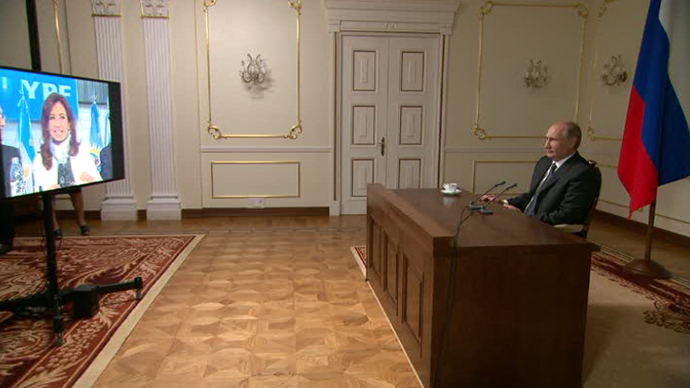 RT Spanish has become the first foreign channel to broadcast within the framework of Argentine's program of digital TV development – Television Digital Terrestre (TDA). The agreement to launch RT's Spanish-language channel was reached during the talks between Putin and Kirchner, which took place in July this year.
LIVE conference call with President of the Russian Federation @PutinRF_Eng welcoming @ActualidadRT to @tvdigitalarpic.twitter.com/BNdcefoagu

— Cristina Kirchner (@CFKArgentina) October 9, 2014
Being the first Russian channel to broadcast in the third most spoken language in the world, RT Spanish was launched in 2009. This event was marked by a nomination for a prestigious British award the Broadcast Digital Awards 2010 for Best channel launch.
In 2014 RT Spanish was unanimously called 'Best TV channel', 'Best information system' and 'Best multimedia platform' by the Mexican Press Club in the National and International Journalism Contest, one of the most prestigious and popular Latin American journalistic awards.
RT Spanish operates on more than 600 cable networks in Spain and Latin America.
You can share this story on social media: