Classified: Authorities keep location on Swedish refugee homes secret for fear of arsons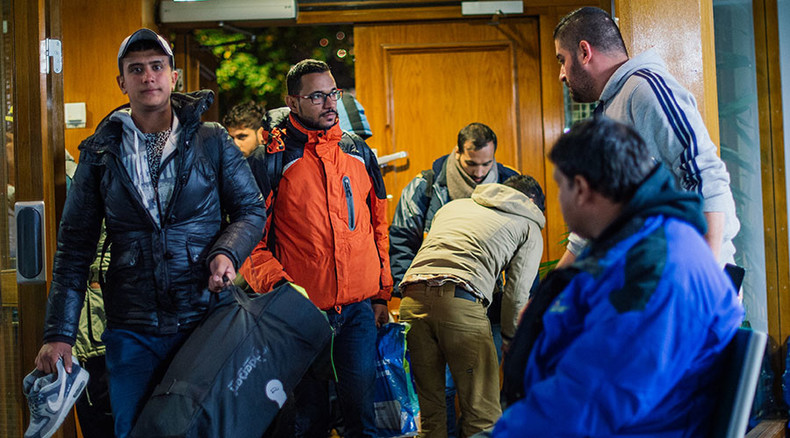 Police stepped up security measures in Sweden after a series of suspected arson attacks on refugee centers across the country. Authorities decided to keep plans to welcome 150 asylum seekers to the northern town of Umeå secret for fear of similar attacks.
Since the start of the year there have been 14 suspected arson attacks on refugee centers in Sweden, which has one of the most generous welfare systems in Europe.

"After the past week's fire incidents in southern Sweden I don't think it's OK to expose the addresses. The risk is that thugs decide to burn down the premises here as well," Ewa Klingfors, director of Umeå council's social services, told Västerbottens-kuriren daily.
Detectives are currently investigating a suspicious fire at an old school building earmarked for asylum accommodation in Onsala, south of Gothenburg, over the weekend. The incident occurred just days after another two centers were burned to the ground in Ljungby and Arlöv in southern Sweden.

Police are pretty sure the fire in Onsala was an arson attack.

"It is a conclusion we draw after an overall assessment of the results of the technical investigation," police spokesperson Cecilia Bergsten told the TT news agency.
READ MORE: 3rd refugee shelter torched in Sweden in 6 days
Sweden says 150,000 refugees could arrive this year, beating the previous record of 84,000 set during the Balkan wars of the 1990s.

The government said late last month that Sweden could use empty prisons and army barracks as emergency shelter for refugees.

Europe's refugee crisis has been dubbed the worst since WWII with tens of thousands of people fleeing war and poverty in the Middle East and North Africa to start a new life in Europe. The pressure provoked several EU member-states re-impose temporary border controls.
READ MORE: 'No more refugees': Arson attack destroys future German migration center (VIDEO)
And the crisis has driven a wedge between those who support asylum seekers and those strongly against them.
Several German cities saw rival rallies by Anti-fascists and PEGIDA (Patriotic Europeans Against the Islamization of the Occident).
READ MORE: Thousands rally in Germany as PEGIDA 'anti-migrant' movement marks 1 year since formation
On Monday, the main event organization's event took place in Dresden, where the movement's took shape a year ago. Thousands of PEGIDA members also marched through Munich and Dresden last week to take a swipe at the wave of refugees. They demanded Chancellor Angela Merkel resign, expressing fury over the influx. Germany expects to take up to 1.5 million asylum seekers from war-torn countries such as Iraq, Syria and Afghanistan in 2015 – four times the amount in 2014.
In Switzerland, the anti-immigration Swiss People's Party (SVP) won in parliamentary elections on Sunday, gaining 30 percent of the seats. There are a lot of sides to the refugee problem, Luzi Stamm, of the Swiss People's Party, told RT following the latest parliamentary victory.
"I think it is irresponsible if a government just opens the border totally and says, regardless of how many come, 'We will accept them.' That is irresponsible. We have to find - the Western countries, also Russia and every civilized country – some kind of control how and who to let in and where you say no."