Putin: MidEast terrorists recruit fighters from ex-Soviet states, seek to expand into other regions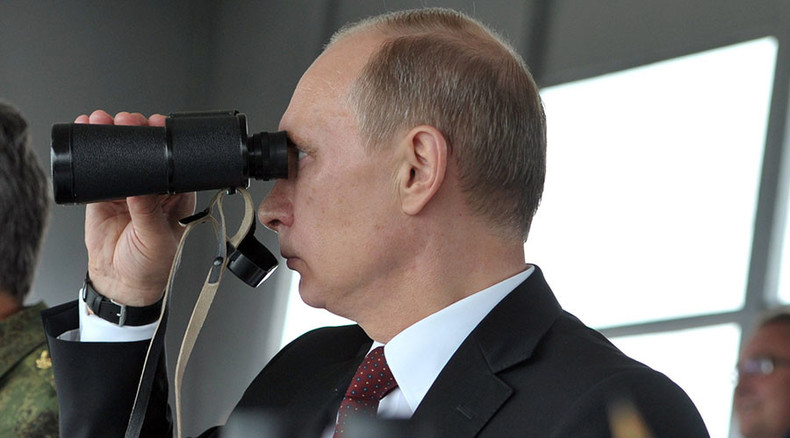 After securing a beachhead in Syria, the terrorists wish to destabilize whole new regions, widen their expansion and recruit more fighters, including from Russia and former Soviet republics, the Russian president said at a meeting with the country's military top brass.
The extremists from the Middle East "have been recruiting militants and continue doing so in many countries, unfortunately including Russia and CIS countries," Vladimir Putin said, adding that Moscow launched its air operation in Syria as a preventive action against Islamic State extremists.
READ MORE: Putin: 7,000 people from ex-Soviet republics estimated to fight alongside ISIS

Putin insisted that Russia's assistance to Syria fully complies with Moscow's military doctrine and international law.
The military operation in Syria has proved that "Russia is ready to adequately and effectively respond to the terrorist threat and any other challenges," the president said.
President Putin instructed the Federal Security Service (FSB) to expose contacts between militants residing in Russia with international terrorists and their sponsors.
"It is crucially important to bring to light the links of the Russian-based militants with the international terror groups and their patrons," Putin told the high-ranking officers of the Russian armed forces.
The Russian Air Force operation in Syria began on September 30. On October 7, Russia's flotilla in the Caspian Sea launched 26 cruise missiles against ISIS targets in Syria, some 1,500 kilometers away.
Over the three weeks of the operation in Syria, Russian warplanes and cruise missiles have eliminated more than 500 Islamic State installations, bunkers, command posts, arms depots, strongholds, artillery positions, convoys and other targets.
With the air support provided by the Russian military, the Syrian regular army has launched a massive assault against the terrorist groups, having liberated dozens of settlements and changed the course of the Syrian conflict completely.
You can share this story on social media: