Ukraine's Game of Thrones: Starks battle Lannisters in Kiev's election campaign billboards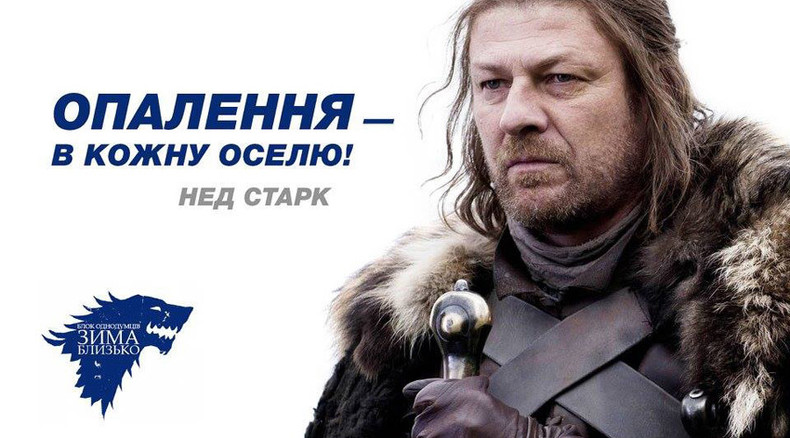 The Great Houses of Westeros appear to have spread their might and ambition to Ukraine as, thanks to a Kiev designer, the Starks and Lannisters, among others, have now coined reverberating campaign slogans for the country.
Dissatisfied with the current slate of candidates running for local offices in Ukraine, Denis Gritsfeldt decided that it was time to give a shot to some other "players."
With as many as 30 percent of the buildings in Kiev unprepared for the cold season, Eddard 'Ned' Stark and his "Winter is coming" motto, which has already become an extremely popular internet meme, has raised an especially hot (or not?) issue. "Central heating for every house," Stark pledges.
Jon Snow may know nothing except for one thing – a mercenary army is a good choice for those who'd like to make some extra cash while fighting for right. Don't waste your time! Head for the Wall and take the Black immediately!
Next comes Joffrey Baratheon and his monarchist party. He promises to "get rid of all those unwanted and punish all those guilty" (he apparently hasn't decided about the innocent ones yet).
His grandpa, Tywin stays, true to the Lannisters' family motto: "A Lannister always pays his debts" – a bit of reassurance, perhaps, for the international creditors to whom Ukraine owes some $20 billion.
If Ukraine is looking for a young, strong-willed and strong-armed leader, here's Khal Drogo, a stallion to "mount the world." Who knows, maybe one stallion is not enough for Kiev and Drogo is exactly what Ukraine needs?
READ MORE: Ukraine should pay debt to Russia in full - Finance Minister
Sandor Clegane stands for lustration policies to be adopted by Kiev. Judging by his heavy armor, big sword and fierce look, the idea could be a success if only it didn't involve firing people.
Robb Stark, a supporter of his father's initiative, urges people "not to lose their heads" when voting. A piece of advice that the Stark family itself seems have difficulty in following in the TV show (and the books).
Finally, here comes Daenerys Targaryer, known as Stormborn and Mother of Dragons, whose skills would come in handy in a country recently shaken by protests and riots. "A leader, a woman, a mother" goes her new Ukrainian campaign jingle.
These guys along with Darth Vader, who is supported by a petition bearing more than 25,000 signatures and is currently being considered for the position of prime minister by Ukrainian President Petro Poroshenko, would no doubt bring the country to prosperity without a hitch.
READ MORE: Ukrainian petition suggesting Lord Vader for PM to be considered by president
Regular local elections in Ukraine are scheduled for October 25. The elections won't be held in Crimea, which is now part of Russia, while in the regions of Donetsk and Lugansk only a number of towns will hold them.
You can share this story on social media: