Ex-president sues Ukraine in European Court of Human Rights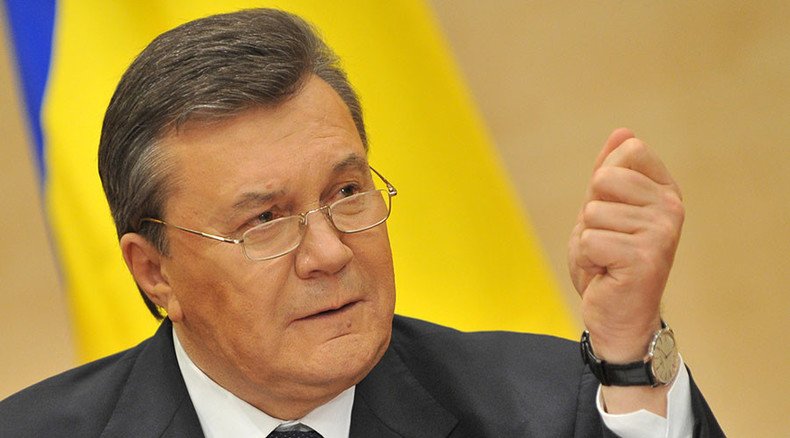 Ukraine's deposed president, Viktor Yanukovich, has filed a case against the country he used to rule with the European Court of Human Rights, saying his rights had been "repeatedly breached".
According to a press-release by London-based Joseph Hage Aaronson LLP, the law firm representing Yanukovich, the former president is asking the court to "declare violations of his rights under the European Convention on Human Rights, including the right to a fair trial (Article 6), the right to an effective investigation of attempts made upon his life and the right to protection (Article 2), and the right not to be discriminated against because of his political status and opinions (Article 14)."
In the accompanying statement, the firm's chief lawyer, Joe Hage, says "it is clear that the Ukrainian authorities are determined to bring prosecutions" against Yanukovich, having initiated "unfair trials which infringe his basic human right to be present and to defend himself against allegations which President Yanukovych vigorously denies."
READ MORE: Ex-Ukraine PM launches 'salvation committee' to win power in Kiev, end civil war
Some of the allegations that have been made by Ukrainian prosecutors are "constructed to provide a basis for the EU sanctions listing against President Yanukovich," Hage adds.
A representative of the ECHR has confirmed Yanukovich's claim has been received and registered as case 507744/15 "Yanukovich v. Ukraine." A review date has not yet been set.
Yanukovich was deposed and forced to leave Ukraine and flee to Russia during a violent coup in February 2014 that instated the current authorities in Kiev. A slew of criminal cases were immediately opened against him by the new regime.
READ MORE: 'Stop the war, probe Maidan shootings' – Ukrainian ex-leader Yanukovich year after coup
The charges leveled against Yanukovich by Kiev's current authorities include complicity in the killings on Kiev's central Independence Square (widely known as the Maidan) during the February uprising, as well as embezzlement and abuse of power. He was also accused of trying to subvert the constitutional system of Ukraine after a giving a speech shortly following his flight to Russia, in which he said he was still officially the president of Ukraine.
He is also accused of having illegally changed Ukraine's constitution in order to usurp power in 2010, when he was elected President.

A number of European countries have imposed sanctions on Yanukovich. In January 2015, the former president was put on Interpol's wanted list. However, the search for him was suspended in July, as the data that was provided by Ukrainian authorities upon which Interpol had based its arrest warrant, was found "questionable."
LISTEN MORE:
You can share this story on social media: