Ex-Ukraine PM launches 'salvation committee' to win power in Kiev, end civil war
Ukraine's former PM Nikolay Azarov has presented a newly-formed "Committee for the Salvation of Ukraine" designed to win power through snap elections and restore peace within the country through direct talks with eastern rebels.
"We ask all citizens, political parties, labor unions and social movements to unite and restore order in our home by joint efforts," Azarov told a press conference in Moscow.

Azarov, 67, served as prime minister under Viktor Yanukovich from 2010 to 2014. Azarov said that he cannot name all members of the newly-established committee because many of them "live and work in Ukraine, and this is very dangerous."

He added: "[The] time will come when we introduce them, first of all to the Ukrainian people. I can assure you that they are patriots who have no ties neither with current authorities, nor with former authorities."

Azarov said that the creation of the Committee for the Salvation of Ukraine was triggered by the situation in the country.

"When I resigned from the post of prime minister of Ukraine, I had hoped that there would be a government of national unity, which would include representatives of various political forces and would focus on the key issue – the restoration of stability and peace in our country. This was discussed during my meetings with foreign diplomats who flooded [into] Ukraine in late 2013-early 2014," Azarov said.

"I emphasize that I resigned on the condition that the situation in the country would stabilize, and the disarmament of all illegal militias and armed groups, which prevented restoration of peace and stability in the country, would take place. Time has shown that this decision of mine and the decisions of the country's leadership at the time had serious flaws and serious mistakes. Of course, the responsibility for this rests with me as a former chairman of the government, along with the former political leadership of the country," he stated.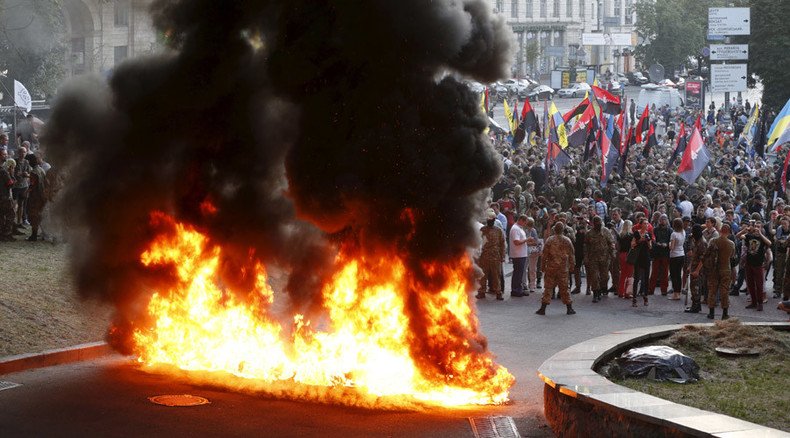 He said that he and his colleagues in Ukraine couldn't imagine that "forces that seized power through a coup d'etat, would unleash a bloody war, pursue a policy of destruction of their own people, the destruction of the economy, and would bring the country to a state of chaos" in such a short space of time.

"We could not imagine all that, which is why it has been decided to include people who have practical knowledge and experience in the Committee; they are capable of leading ... the country out of the crisis, stopping the fratricidal war and ensuring the development of the country", Azarov noted.

"We know who carried out the coup d'etat in Ukraine, who refused to hold dialogue with their own people. The [Ukraine] Salvation Committee thinks that it is impossible to restore accord without changing the political leadership. The Salvation Committee has unfortunately been set up outside of Ukraine, but I am sure that we will come back. We address the Ukrainian people – we are ready to assume responsibility for restoring Ukraine's development."
'People do not trust current government in Kiev, snap elections needed'
The Committee for the Salvation of Ukraine has called for the resignation of Prime Minister Arseny Yatsenyuk and Ukrainian President Petro Poroshenko. It has also urged the citizens of Ukraine to demand snap presidential elections, snap elections to the Ukrainian Verkhovna Rada and to the local governing bodies.

"This criminal regime is bankrupt and is obliged to leave, they forcibly seized power, illegally dispersed the 7th Ukrainian Verkhovna Rada . The country is in dire need of reforms. With your support the Committee is prepared to take responsibility for the future of the state," the group said in a written statement handed out at the press-conference on Monday.

Azarov claimed that the majority of Ukraine's population does not trust the current government and will support the newly-created Committee for the Salvation of Ukraine.

"If you summon the ratings of the current politicians including the ruling coalition – Poroshenko, Yatsenyuk, Tymoshenko, Lyashko and so on – they have a little more than 20 percent all together. Which means that 80 percent of Ukrainians do not trust the current regime," he said.

The Committee has nominated Verkhovna Rada's former deputy Vladimir Oleinik for the position of president.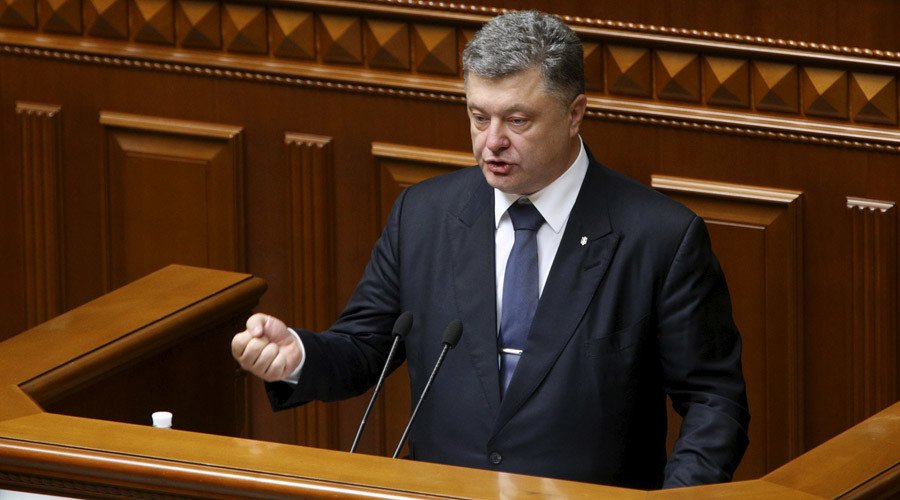 "The crisis in Ukraine is political, economic and social," Oleinik stated. He added that he considers restoring peace in Donbass to be his primary goal.

As for ousted president Viktor Yanukovich and people close to him, they were not invited to the committee as its members believe that the group should not include them in their ranks.
'Kiev government dependent on the West'
According to Azarov, Kiev is acting on orders from the West these days, getting the country into increasing debt. "This regime is slavish. Now they just execute commands and get handouts in the form of loans. The IMF has totally discredited itself by showing that it was ready to provide loans to a country involved in the fighting, thus violating the statute."
READ MORE: Ukraine passes 'historic' constitutional changes to comply with Minsk agreements – Nuland

He also slammed appointments of foreigners to senior positions in Ukraine, saying it's a "slap in the face to all Ukrainian people."

"By doing this we admit that we have no sovereignty," Azarov said, adding that foreigners act as temporary workers, are not interested in improving life in the country and do not know its realities.

Authorities in Ukraine, according to him, currently lean only on "volunteer battalions" which, Azarov says, are "ready to shoot at anyone."

"The existence of such groups, which include people who have committed more than one crime and deserve severe punishment, is unacceptable in a European country," the ex-prime minister said, adding that Europe is beginning to understand it made the wrong choice.

"They wanted to get a European government but received a pro-fascist, and an absolutely incompetent economy ... to boot," Azarov said. According to him, sooner or later, Ukrainian people, as well as people in Europe and the US will end up asking themselves: "What to do with this regime?"
'Civil war should be stopped, direct talks with Donbass needed'
Oleinik said that if he were elected president, he would have immediately signed a decree on returning Kiev's military forces to their places of their permanent deployment and asked for forgiveness from all Ukrainian mothers "on his knees."
READ MORE: Ukrainian forces shell Donetsk: 1 civilian killed, hospital hit (PHOTO, VIDEO)

"Unfortunately, we have lost Crimea because of this criminal government, which after staging a coup d'etat sparked ethnic strife and pushed away Crimea and the south-east of Ukraine", Oleinik told the press conference. "When Crimea saw that war is just round the corner, it walked away from Ukraine."

He said he would also hold direct talks between Kiev and Donbass and agree to "any compromises."

In 2006, Oleinik was elected to parliament from Yulya Tymoshenko's bloc. Since March 2010, he had been member of the Party of Regions and served as deputy chairman of Rada's committee on industrial and regulatory policy and entrepreneurship. In December 2014, Ukraine's General Prosecutor's Office charged that he had been organizing illegal voting in parliament over "January 16 laws" – a package of measures toughening penalties for various offenses. Oleinik was put on Ukraine's wanted list.
The paper also calls for the disarmament of illegal armed groups, with an adoption of the most severe measures against them, if necessary.

"We will find and punish those who shot Maidan, burned [Trade Unions House in] Odessa and unleashed a fratricidal war in Donbass. We invite judges, prosecutors, employees of the SBU faithful to the oath and people [of Ukraine], the police and the army not to prosecute people for their beliefs. Citizens of Ukraine, capture all facts of violations of your constitutional rights and freedoms!" the co-founders of the Committee have urged.

They also spoke of the need to abolish all laws, regulations and court decisions related to the mobilization and conflict.
'New referendum-approved constitution needed'
Ukraine needs a new constitution approved in a nationwide referendum, Oleinik said.

"The current constitution has been trampled and destroyed. We need a new social accord," he said, adding that "there is a disease in Ukraine that every new president changes the constitution." If the constitution is voted on at a referendum, then the changes agreed on by the people would be made, he explained.
READ MORE: US expands training mission in Ukraine as part of long-term military partnership

The co-founders of the committee say they are in favor of the neutral status of Ukraine and adoption of two official languages in the country.

"We are facing a choice: either one language, or two countries, or two languages and one country. We need to choose the latter for the sake of the state. A guarantee of peace for Ukraine is a neutral status."
Oleinik said that if Ukraine hosted NATO bases, that would make a conflict zone and would be against Ukraine's national interests.

Meanwhile Kremlin spokesman Dmitry Peskov said on Monday that Moscow has nothing to do with the initiative.

"Any [committee's] coordination on this issue with any authorities in Russia is out of question," he said. "As for whether Moscow supports this initiative or not, we should first have a look at these statements and analyze them."
You can share this story on social media: