US expands training mission in Ukraine as part of long-term military partnership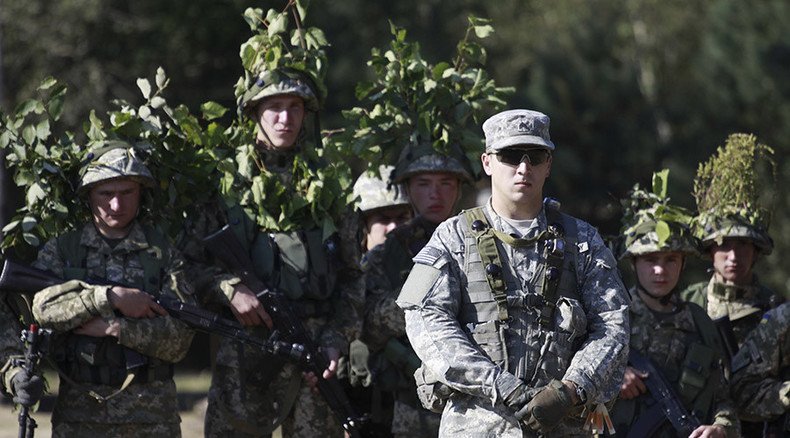 US military instructors are expanding their mission in Ukraine beyond the National Guard and will boost the army's "defense capabilities" as part of a security partnership which has been going on for the "last 20 years," the US State Department said.
"The United States intends to continue training Ukrainian security forces this fall in western Ukraine," State Department spokesman Mark Toner has announced. He labeled the training part of a long-running defense cooperation with Ukraine.
The US instructors are to focus on small unit training aimed at bolstering Ukraine's "internal defense capabilities" as conflict in the Donbass region continues for over a year. The new program would increase Washington's military assistance provided to Ukraine by more than $244 million.
"This is going be small unit training conducted by US Army Europe for the Ukrainian Ministry of Defense personnel," Toner told reporters Friday. "It's similar quite frankly to our ongoing training of the National Guard which we announced last March."
Some 300 US troops are already training the country's National Guard, which is a semi-official Ukrainian military force hastily created in 2014 to legalize groups of volunteers, patriots and activists following the coup and protests on Maidan. Earlier this month, Lt. Gen. Ben Hodges said that US was considering the expansion of its military training to Ukrainian army soldiers.
"We have been providing this kind of assistance training program to Ukraine, over the last 20 years," Toner stated, adding the new program is not unique and is in line with the US' "ongoing partnership" with Ukraine.
Meanwhile Washington has stepped up military exercises in Eastern Europe to "reassure" NATO allies in the face of a perceived "Russian threat." NATO's Saber Guardian/Rapid Trident 2015 military drills have been seeing almost 2,000 soldiers from 18 different countries displaying their military might this week near the city of Lvov in western Ukraine, inching further towards the Russian border.
The US-led drills are fueling "revanchist moods among the 'party of war' in Kiev, which jeopardizes the outlined progress in the peaceful settlement of a deep internal crisis in Ukraine," the Russian Foreign ministry said in a statement, earlier this week.
The ministry called the drills "a clear manifestation of NATO's course of unconditional support for the current policy of the Kiev authorities in the south-east of Ukraine, which leads to civilians dying on a daily basis in the region."
NATO drills will continue until the end of July, but Ukrainian President Petro Poroshenko has already called for more cooperation in the defense sector since meeting the Supreme Allied Commander Europe US General Philip Breedlove in Kiev.
"We've got an effective military and technical cooperation," he said. "There are also good prospects for cooperation in terms of military exercises."
Kiev is also pushing for Washington to provide lethal military aid to Ukraine, which the US has so far been reluctant to do.
READ MORE: 1,800 troops from 18 states: NATO launches biggest ever drill in Ukraine
"We expect to get additional support from the United States," Ukrainian Prime Minister Arseniy Yatsenyuk told AP, less than 10 days ago. "We do understand that some NATO allies are a little bit reluctant in the decision to supply defensive weapons to Ukraine. But this is not just about Ukraine. This is about the security of the world."
Commenting on the possibility of sending non-lethal aid to Ukraine, Toner stated on Friday that he had nothing to announce, assuring that for now Washington's focus is on providing non-lethal aid.
"There's no plan to change that," Toner said.
Nevertheless Washington said last month that more heavy equipment, including artillery and tanks, will be moved closer to the Russian borders and stationed on a rotating basis in a number of Eastern European NATO countries. Amid the "Russian threat" hysteria, NATO is also tripling the size of its Response Force, recently reinforced with a new Very High Readiness Joint Task Force.
You can share this story on social media: