US seeks talks with Russia, Saudi Arabia, Jordan, Turkey on Syria – Kerry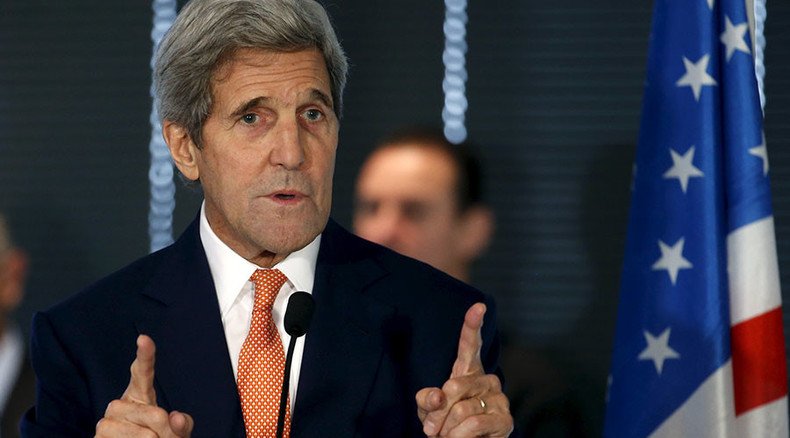 US Secretary of State John Kerry has announced possible multi-party negotiations with Russia and Middle East states to find a "tangible' political solution for the Syrian crisis. Moscow says the proposal is being examined.
Three weeks after the beginning of the antiterrorist air operation of the Russian Aerospace Force in Syria, John Kerry announced that the conflict in Syria has no realistic military solution, Reuters reports.
Kerry is going to hold talks with leaders of Russia, Turkey, Saudi Arabia and Jordan in order to discuss "real and tangible options" in search for a political solution for the Syrian crisis that has been ongoing since February 2011.
Washington intends "to try and avoid the complete and total destruction of Syria," Kerry said at a joint press conference with his Spanish counterpart Jose Manuel Garcia Margallo in Madrid.
The negotiations are due to take place "in a few days," though Kerry has not elaborated on the exact location and timing of the event. He only mentioned that the meeting could take place as early as by the end of this week.
Moscow confirmed it has been informed of the US initiative, RIA Novosti reports.
"We're aware of the proposal and we're thrashing it out," the news agency cited a source in Russia's Foreign Ministry.
Russia would welcome talks in any format, said the speaker of the upper house Valentina Matviyenko regarding the US proposal for multi-party talks on the Syrian crisis.
LISTEN MORE:
Moscow's military actions in Syria have already resulted in Islamic State's (IS, formerly ISIS/ISIL) infrastructure being seriously disrupted and extremists reported leaving the country en masse.
READ MORE: 3,000 terrorists leave Syria following Russian airstrikes – military source
"Everyone, including Russia and Iran, has said there is no military solution," said Kerry. "This is a human catastrophe that not only threatens the integrity of whole country, but also of countries around the region." He added that it is "important for us to respond."
The US-led anti-Islamic State coalition has been staging airstrikes against terrorist installations on the territory of Syria and Iraq for over a year now.
"Propping up [President Bashar] Assad will ultimately fail and also unfortunately lead to more bloodshed, more refugees, more extremism and more jihadis," Kerry told reporters during his official visit to Spain.
Last week Washington refused to receive a Russian military delegation, headed by Prime Minister Dmitry Medvedev, to discuss coordinated action on the fight against terrorism in Syria, Foreign Minister Sergey Lavrov said.
Russian President Vladimir Putin dubbed the decision of Washington's "unconstructive" and apparently showing a lack of will to negotiate.
"I don't really understand how our American partners can criticize Russia's counterterrorism effort in Syria while refusing direct dialogue on the all-important issue of political settlement," Putin explained.
"ISIS is the real threat to everyone in the region and the Americans and their allies in the region have a lot of leverage on stopping this disease, this cancer," Syrian political activist Ammar Waqqaf told RT, stressing that Washington should also talk to the legitimate Syrian government.
"The way they [the Americans] see it at the moment because they have cut all ties [with Damascus], there is no way back for them, they have to go through the Russian door, which is again a shame, because the Syrian government is there. At the end of the day, this sort of ideology needs to be engaged first-hand, not through proxies," Waqqaf said.
LISTEN MORE:
You can share this story on social media: