Police in India arrest 5 suspects, including 2 teenagers, in toddler rape cases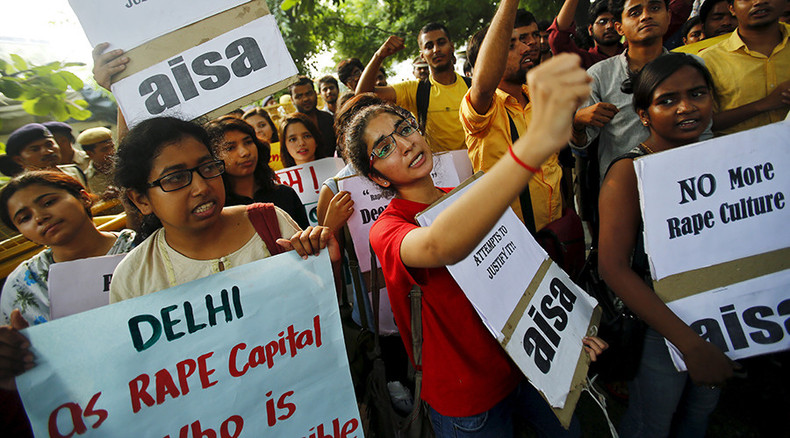 Two teenage boys have been arrested in New Delhi for raping a two-year-old girl after kidnapping her at her family home. In a separate attack another group of men have been detained following the gang rape of a five-year-old.
"Delhi police have solved [the crime] by apprehending two juveniles in the rape case of a child," said New Delhi police commissioner, Dependra Pathak.
The teenagers, both aged 17, were detained following a massive investigation that questioned more than 250 suspects following the discovery of the unconscious child late on Friday night. The commissioner said that both the alleged rapists were acquainted with the toddler's family, as both boys lived in the same neighborhood.
Local media reports that the young child was abducted by two men on a motorbike as she was watching TV.
"My girl was watching Ramleela when there was a power cut. That is when they kidnapped her," NDTV quotes the child's mother as saying.
The child is now undergoing medical treatment and is believed to be making a recovery. "Further investigation is on [going]. All concerned evidences are being collected," Pathak said, adding that the two 17-year-olds will be brought before a judge to face initial charges in 10 days.
In a separate incident, three men have been arrested over the rape of a five-year-old in the Indian capital that also took place on Friday. The victim was gang-raped at her neighbour's house, after being lured under a false pretext.
"Her clothes were partially torn with blood spots all over them. Some locals saw her and she told them she was sexually assaulted," an officer from Anand Vihar police station in eastern Delhi told AFP on condition of anonymity. The 5-year-old is also being treated at a hospital.
Friday's attacks came a week after a four-year-old girl was raped, slashed with a knife and dumped by a railway track in the capital. The young child has been undergoing surgery to recover from her ordeal.
Thousands joined protests against the rape on Saturday at Najafgarh road where 2-year-old girl was kidnapped. On Sunday Indian students walked through the streets of New Delhi to demonstrate against the string of rapes.
Members of the All India Students' Association (AISA) and other student organizations demanded the resignation of Delhi Police Senior Special Commissioner, Deepak Mishra, over his remarks regarding the rape, which he made in the wake of the sexual assaults on the two minors.
According to India's government, more than 2,000 girls and women were raped in New Delhi in 2014 alone, according to AP.
Last year, 36,735 rape cases were recorded in India, with 2,096 taking place in New Delhi. However, the actual number is feared to be much higher as not all cases are registered with the police.