Germany's police chief calls for border fence to cope with refugee crisis – report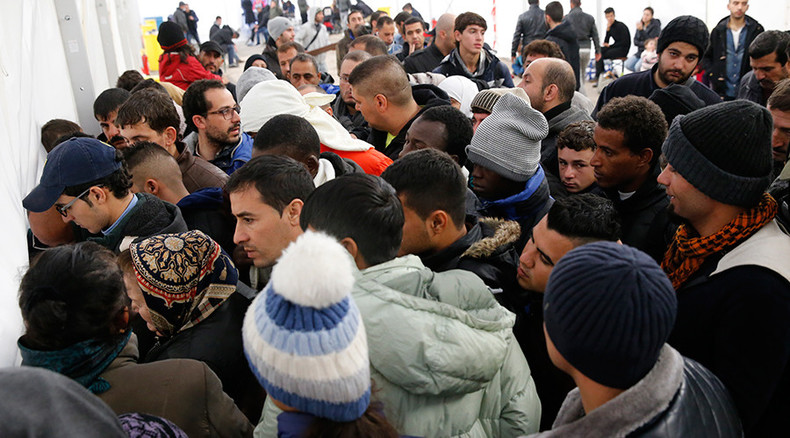 Germany should build a fence along its border with Austria to stem the influx of asylum seekers, the German police union chief said, according to Welt am Sonntag. He added that other EU countries will follow Berlin's example.
With more than 710,000 refugees having crossed EU borders so far this year, according to EU border agency Frontex, and with most of them heading to to Germany, the country's police union chief has proposed the construction of a fence along the country's border to tackle the inflow of migrants.
"If we want to conduct serious border controls, we must build a fence along the German border. I am in favor of our doing this," Rainer Wendt, head of the German Police Union told Germany's Welt am Sonntag newspaper on Sunday.
Wendt reasoned that if Germany closed its borders, Austria would shut its borders with Slovenia adding that "we need precisely this effect."
Wendt has voiced support for the creation of temporary migrant transit zones to filter out refugees seeking asylum in Germany, but added that it would only work if the border has a new fence.
He called on Germany to lead the rest of the EU in adopting harsher anti-migrant measures, saying, "someone must pull the emergency brake now — that can only be [German Chancellor] Angela Merkel."
It is highly unlikely that the police union chief's proposal will materialize as the Merkel government has strongly criticized the erection of a similar 3.5 meter fence in Hungary, along its 175 kilometer border with Serbia . Hungarian officials meanwhile announced that no migrants have breached the second fence erected along the Croatian border, since the border was closed on Saturday.
Merkel's approach instead focused on efforts to secure EU external borders, something that was agreed between EU member states on Friday. The EU and Turkey agreed on an "action plan" that might give Ankara up to €3 billion ($3.4bn) in aid, visa privileges and new talks on Turkey-EU membership in return for its help in stemming the flow of refugees to Europe.
Visiting Istanbul on Sunday, Merkel spoke of the "mutual interests" of Germany and Turkey in finding "legal ways for coping with refugee flows," when she met with the Turkish President Recep Tayyip Erdogan.
The chancellor also commended Turkey for coping with the ongoing refugee and migrant crisis despite receiving less international assistance in comparison to other countries.
Meanwhile the polish President, Andrzej Duda, warned that migrants will bring "possible epidemics" as he called for more measures "to ensure that Poles are well protected against epidemiological risks".
"The security of citizens is the most important question... financial and physical security as much as health," Duda told the TVN24 channel.
Duda is not the only Polish political figure that is worried about a possible disease outbreak. Jaroslaw Kaczynski, leader of the Law and Justice party and former Polish prime minister brought up "cholera in the Greek islands" and "dysentery in Vienna" when accusing the refugees of spreading all "kinds of parasites which are not dangerous in their own countries but which could prove dangerous for the local populations" in Europe on Tuesday.
Poland agreed to accept about 5,000 refugees in September out of the 120,000 people to be shared out between the 28-member EU states. Germany is due to receive upwards of one million refugees by the end of the year.
LISTEN MORE: