Passenger films plane engine cover breaking apart during take-off (VIDEO)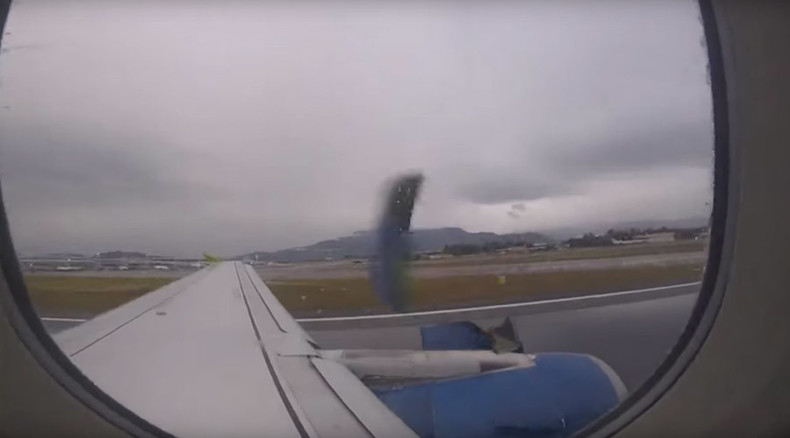 A Santiago to Copiapo plane with 137 passengers onboard had to turn back to the airport in the Chilean capital after one of its engines fell apart as it prepared to take-off. A passenger filmed the horrifying scene from a seat above the wing.
Parts of the plane, which was carrying 137 passengers, started to rip apart as the plane gained altitude, according to Chile's Tele 13, which also says the parts looked flimsy from the outset and the protective casing on the engine broke off very soon after take-off.
Pilot Patrick Smith has offered his own version for the break that took place Wednesday.

"A portion of the engine cowling became unlatched - because perhaps it was not latched properly to begin with, [it] got caught in the windstream and was torn off," he told The Daily Mail.

"The cowling section itself is nothing immediately critical; it's just a cover," he added.

"Damage to the engine wasn't the problem. The danger was in the piece striking some other portion of the airframe as it sheared away - namely the wings, the tail, or the aft stabilizers. An impact with the stabilizers, for example, could have been extremely hazardous. However, the slipstream lifted the piece well clear of these areas. From that point there was little or no danger," Smith mentioned.
Sky Airlines, Chile's second largest carrier who operates the plane, just launched a low-cost policy that aims to gradually decrease pricing, until a ticket can be bought for the price of a bus fare.

Hard as it may be to believe, this is by no means an isolated incident. Last year a Delta flight to the Dominican Republic saw one of its engine casings blown off in mid-flight.
READ MORE: 'Bang, flames, lights went out': Cathay Pacific jet diverted to Bali with one engine out
Similar engine incidents also happened to British Airways and United Airlines planes this year. The BA plane went up in flames on a Las Vegas runway on September 8, moments after the engine suddenly caught fire.