'Stop war crimes': London, Paris protest against Israeli treatment of pro-Palestine demonstrators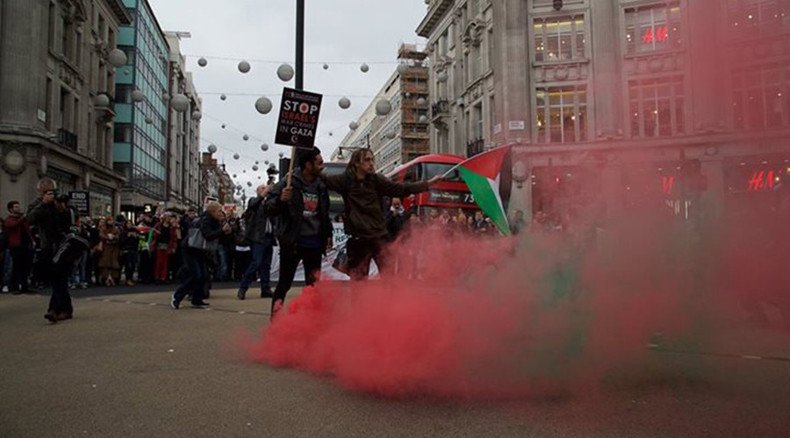 Hundreds of protesters have taken to the streets of European capitals to voice their support for Palestinians and express their anger against Israel and its use of force against demonstrators and biased media coverage of recent Israeli-Palestinian tensions.
READ MORE: Escalating Israeli-Palestinian violence LIVE UPDATES
The activists marched from Oxford Circus to BBC headquarters in London , blocking traffic along the way and bringing Palestinian statehood to the attention of UK shoppers. According to Guardian estimates, at least 150 people took part in the demonstration.
"We know that as long as the UK media keeps repeating Israeli government press releases and portraying Palestinians as either only helpless victims or violent aggressors, we have to shout out loud that there is [the] ... right of an occupied people to resist," one protester said addressing the crowd.
"Stop Israel's war crimes in Palestine", read one of the banners of the demonstrators, while some of the protesters shouted "Palestine don't you cry, we will never let you die!"
Organized by activists, working as part of London Palestine Action, activists managed to set off red and green smoke bombs as they attracted attention to their "Solidarity for Palestinian resistance" cause.
According to Layla White of the London Palestine Action, by selling Israel weapons, the British government "is providing material and political support to Israel's violent oppression of Palestinians."
"Human rights organizations are warning that Israel is using live ammunition against Palestinian protesters, carrying out summary executions and allowing illegal settlers to attack Palestinians," she told the Guardian.

Solidarity pro-Palestinian rally was also held in Paris at the Republic Square.
"The Israeli government has chosen to provoke the Palestinians, to humiliate them, to be involved in the escalation of violence, because the media spotlight is elsewhere at the moment, " Zemor Olivia, President of EuroPalestine, organizer of the rally told hundreds that gathered in protest.
The activist called on the French government to stop working with the "terrorist Israeli state" as they waved a huge Palestinian flag.
"Today we stand behind the Palestinians and we aren't ready to negotiate, since there is nothing to negotiate. The only thing that remains is to take up arms."
Israeli-Palestinian violence has been recently on rise across Israel, the West Bank and Gaza. Stabbings are becoming particularly common amid fears of a new Palestinian uprising.
According to Palestinian authorities, 43 Arabs have been killed since the conflict began last month, and over 1,700 have been injured.
LISTEN MORE:

You can share this story on social media: