Hungary seals borders as refugees flow into Slovenia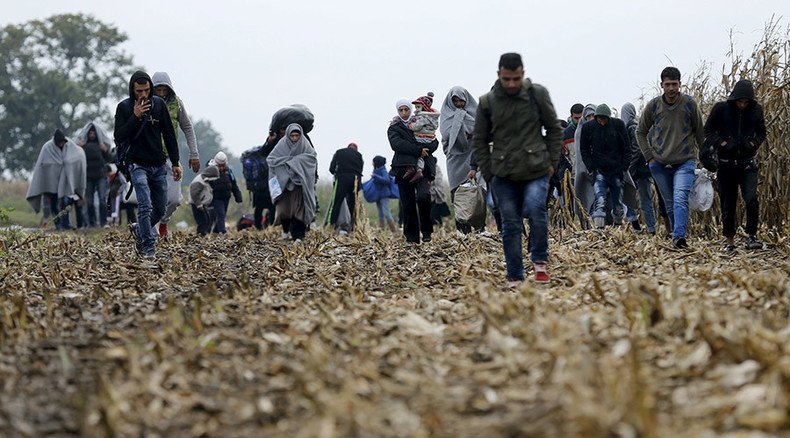 Asylum seekers, who have been prevented from crossing into Hungary, are now flowing into Slovenia. Hungary has responded by saying it will temporarily impose border controls with Slovenia, while Ljubljana said it would deploy its army at the border.
"The government has decided to include the army in helping police," the Slovenian Prime Minister Miro Cerar said on Saturday, following a meeting of Slovenia's national security council. Ljubljana has had to deal with an influx of refugees after Hungary closed its border with Croatia.
The first bus with refugees arrived at the Slovenian-Croatian border on Saturday morning.
"The bus is on the border crossing (Gruskovje) and the migrants will now go through a registration process," police spokesman Bojan Kitel told Reuters.
READ MORE: Hungary to close border with Croatia to stop refugee influx
EU member Hungary took a restrictive approach to the refugee crisis that the union is facing this year. Previously it erected a wire fence along the border with non-member Serbia and fellow member Croatia to prevent illegal crossings. The border blockade with Croatia was issued on Friday night, with Budapest explaining that it was protecting Europe, its prosperity, security and Christian values.
The refugees, who fled from North Africa and the Middle East due to violence and poverty, have been looking to travel to northern European nations like Germany, where they believe they will have a better future. However, they are now having to decide whether to stay in Croatia or to seek alternative routes.
Slovenia has taken steps to restrict the expected flow of refugees by cutting all rail traffic with Croatia. There is a possibility that only two border crossings, at Gruskovje and Petisovci, would remain open for asylum seekers traveling by bus.
On Friday both countries said they would not cut traffic as long as Germany and Austria allow the refugees to enter their borders. Slovenia says it can handle up to 8,000 people traveling through its boundaries on a daily basis.
Hungary announced on Saturday it would temporarily reintroduce border controls along its Slovenian frontier to prevent the asylum seekers from entering.
Meanwhile over 40 buses packed with refugees were stacked up at Serbia's border with Croatia. The country allowed only five buses to enter in the morning.
Hungary is among several EU countries that oppose Brussels' plan to distribute the arriving migrants among members. It wants the union to put more effort into protecting its external borders, particularly the boundary with Greece, where the majority of asylum seekers arrive by boat from Turkey, before heading north through Macedonia and Serbia.
Brussels is mulling a plan to offer Turkey over $3 billion, visa preferences and accession talks in exchange for helping to curb the influx of refugees.
LISTEN MORE:
You can share this story on social media: