Hungary to close border with Croatia to stop refugee influx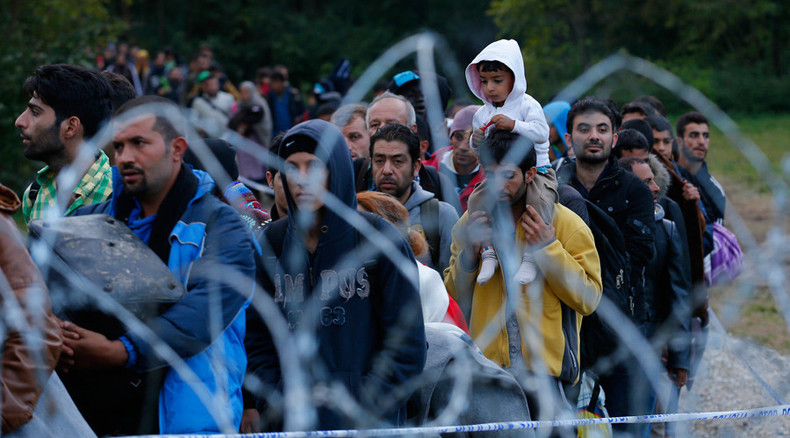 Hungary will seal off its border with Croatia midnight to stop the uncontrolled inflow of refugees that arrive in thousands every day, the foreign minister said after a national security cabinet meeting.
The border will be closed from 12am local time (22:00 GMT) on Friday and refugees will be able to enter Hungary from Croatia only through two transit zones, which are yet to be set up. They will have to present valid travel documents or submit asylum requests, Reuters reports, citing Foreign Minister Peter Szijjarto.
"If we seal off the green border, it is only going to be possible to come into Hungary in a regular way," he said on Thursday, as quoted by Reuters. "It would exactly look like the practice on the Serbian border. It would (be) exactly the same," he added. "Hungary will fully enforce the Schengen rules on the border with Croatia."
The minister also said that Hungary had informed Croatia, Slovenia, Poland, Slovakia, Austria, and Germany about its decision to close the border.
He earlier blamed the EU leaders for having failed to make a decision on protecting Greek borders from a massive refugee inflow.
"We have urged Greece and the European Council to put together a joint European force to protect the external Schengen border," Szijjarto said. "Unfortunately, this decision has not been made," he added.
After the border closure, the refugees are expected either to try and get to Europe through Slovenia or to stay in Croatia, which is already struggling with mass refugee inflow, for an indefinite period.
Between 5,000 and 8,000 refugees entered the country from Croatia each day in the recent weeks being then transferred by police in buses and trains to the border with Austria, according to Hungarian police sources cited by Reuters.
Hungary also announced it had finished building a steel razor-wire fence on its border with Croatia, similar to the one that sealed the border with Serbia and diverted the refugee flows to Croatia in September.
The flow of refugees on Hungarian border with Serbia has significantly decreased as Budapest mostly rejects asylum requests submitted at the border crossings, considering Serbia 'a safe haven for refugees.'
Hungary also demanded that Croatia should fully implement European regulations and register refugees arriving there.
"With a strict protection of our southern borders ... we give the message that it does not make sense to hit the road," Szijjarto added.
'Islam was never part of Europe'
Hungarian Prime Minister, Viktor Orban, and his government consistently and fiercely oppose the idea of taking in refugees on a massive scale and claim to be protecting Hungary and its Christian values.
"Islam has never been part of Europe, it came to us," Orban he told German Focus news in a recent interview. "Spiritually, Islam was never part of Europe. It's the rulebook of another world," he said adding that "we in Hungary decide what we want or don't want. We don't want that."
He also claimed that most people arriving to Europe are not refugees but economic migrants and sharply criticized France and Germany for refusing to tolerate "any doubts" concerning multiculturalism.
"Not everyone is entitled to a life in Germany or a life in Hungary. That's only for those who have worked for it," he said, admitting though that Turkish migrants who came to Germany in 1960s for work belong to Germany's and European history and are now part of Europe.
'Crisis not adequately managed'
The UN High Commissioner for Refugees (UNHCR) has criticized EU's measures aimed at tackling mass refugee inflow.
"This is not a crisis that at the moment is being adequately managed," UNHCR spokesman Adrian Edwards said during a news briefing.
The UNHCR also warned of a recent increase in the numbers of refugees arriving to Europe. 85 boats with asylum seekers have been arriving on the Greek island of Lesbos every day.
"We don't know the full reasons for this surge in arrivals: it could be the result of a temporary improvement in the weather, a rush to beat the onset of winter and a fear that European borders may soon close," Edwards said.
The UNHCR has called on the European Union to accelerate procedures of refugee registration. According to the UN data, 591,000 people arrived to Europe this year, with 450,000 of them coming to Greece, while EU leaders agreed on a plan to distribute only 160,000 refugees between the union's members.
LISTEN MORE:
You can share this story on social media: