Caution! People with tattoos tend to be angrier – new study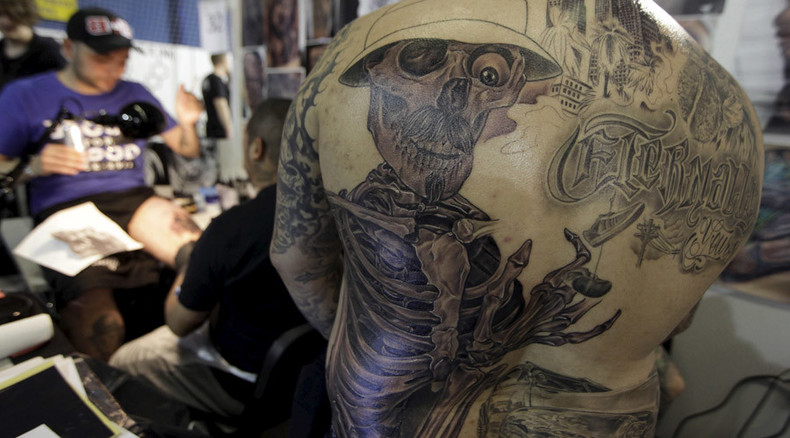 Staying away from tattooed people might be a good idea – there are high chances that they could be angry. According to a new study, inking one's skin is actually linked to rage. Women have "significantly higher" anger problems than men in this respect, it appears.
The research, published in the Body Image Journal, discovered that people with tattoos have significantly higher levels of verbal aggression compared to non-tattooed participants. Those with body art also showed a higher range of anger and reactive rebelliousness.
The research, led by Professor Viren Swami of Anglia Ruskin University, on 181 women and 197 men between 20 and 58 years old, also revealed that women has "significantly higher" anger management problems than men.
"We found that tattooed adults had significantly higher reactive rebelliousness, but not proactive rebelliousness, compared with non-tattooed adults," Swami said.
Out of those surveyed 25.7 percent had at least one tattoo. Out of over 350 people observed, subjects had on average 2.5 tattoos per person. Scientists found a correlation between the number of tattoos a person had and their levels of anger.
"One explanation is that people who have higher reactive rebelliousness may respond to disappointing and frustrating events by getting tattooed," Swami said.
To rate an individual's rebelliousness, the subjects were asked questions regarding how they would react to certain life scenarios. One such question, which measured "proactive rebelliousness," asked:
"If you are asked particularly not to do something, do you feel an urge to do it?"
The results showed no real discrepancies in levels of "proactive rebelliousness" but when questioned about possibly being scolded by an authority figure, tattoo folks showed "reactive rebelliousness" claiming that they would "get angry and argue back."
Scientists believe that getting tattoo is an act of defiance and emotional rebellion against individual's negative emotional event experience.
"On the other hand, there were no significant differences between tattooed and non-tattooed adults in proactive rebelliousness.
It is possible that this form of rebelliousness, which is hedonistic and goal-driven, is at odds with the pain and permanence of tattoos," Swami noted.