US, China brace for stand-off over disputed islands sail-by as Aussies fence-sit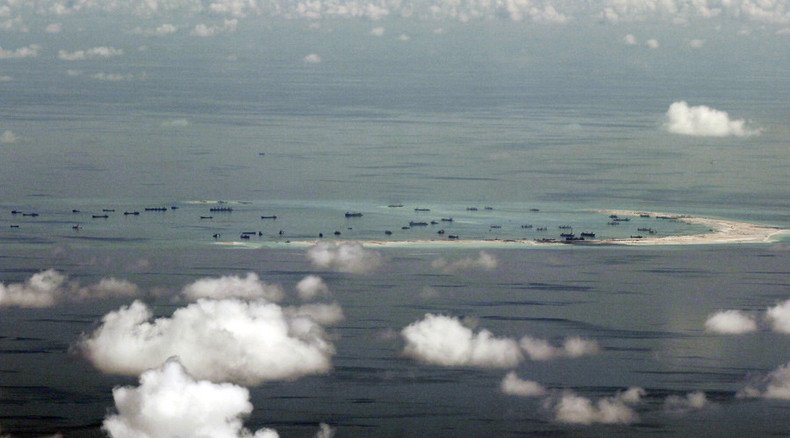 China may use force if the US proceeds with its plan to sail within 12 miles of a reclaimed island in the South China Sea. Australia, which previously supported the American plan, said it wouldn't be part of it.
"We wouldn't participate in any surveillance or whatever other activities the United States might have talked about," Australian Trade Minister Andrew Robb said on Thursday in an interview with Bloomberg. He was commenting on the Pentagon's plan to test China's resolve to protect the waters around its artificial islands.
"On that issue, we're not taking sides," Robb added.
China is building several artificial islands in the disputed sea territory hosting radar stations, airstrips and other facilities, which critics insist serve military purposes. China says the military aspect of its reclamation program is minimal and that the islands' purpose is mostly civilian.
READ MORE: Pentagon complains of 'unsafe maneuver' by Chinese jet shadowing US spy plane
At the same time Beijing believes that the islands are China's proper sovereign territory and considers the waters within 12 miles of them to be its territorial waters. The US rejects the claims and, according to some media reports, is planning to sail a military patrol closer than 12 miles from at least one of the islands.
"Make no mistake, the United States will fly, sail and operate wherever international law allows, as we do around the world, and the South China Sea will not be an exception," US Defense Secretary Ash Carter told a news conference on Tuesday after a two-day meeting between senior American and Australian officials.
Speaking alongside Carter, Australian Foreign Minister Julie Bishop said the two countries were "on the same page" on the issue. That statement was apparently undermined by the trade minister's latest remark.
"Nearly three quarters of our trade moves through that South China Sea, so I think it's quite legitimate for us to have a view on the need to make sure that we've got passage," Bishop said.
China commented on Carter's words on Wednesday by saying that what US calls militarization of South China Sea was due to "certain countries… flexing military muscles" there.
"We hope the US can look upon the current situation of the South China Sea from an objective and fair perspective and play a constructive role together with China in keeping the peace and stability in the South China Sea," Chinese Foreign Ministry spokeswoman Hua Chunying said.
China's Global Times, a newspaper considered close to the Chinese Communist Party, published an editorial on Wednesday, saying sailing a warship this close to Chinese territory could be "breach of China's bottom line."
"China mustn't tolerate rampant US violations of China's adjacent waters and the skies over those expanding islands," the newspaper said, warning that "if the US encroaches on China's core interests, the Chinese military will stand up and use force to stop it."
China is increasingly projecting its power across the region, including South China Sea, through which one of the busiest maritime traffic lines goes. Much of the trade through the sea is oil for the power-hungry Chinese economy, which makes control over it vital for Beijing. The sea itself is rich in energy resources as well, with an estimated 12 billion barrels or untapped reserves under it.
In addition to China, Brunei, Malaysia, the Philippines, Vietnam and Taiwan claim sovereignty of parts of South China Sea.
You can share this story on social media: