Baby on board! Woman gives birth at 9,000 meters above Earth on flight to LA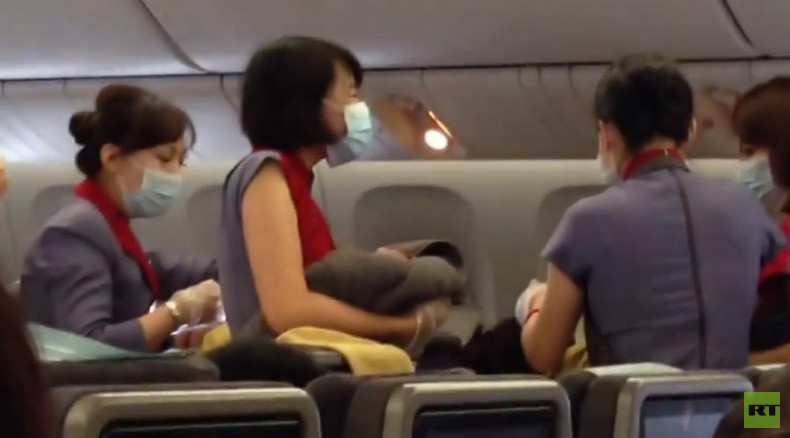 A Taiwanese woman has prematurely delivered a baby on China Airlines flight to Los Angeles at 9,000 meters in the sky. А doctor who happened to be on board helped deliver the baby girl 30 minutes before an emergency landing.
The woman who was in the 32nd week of her pregnancy appealed to the flight staff for medical help, saying that her waters had broken, China Airlines (CAL), the nation's largest carrier told the China Post. Full pregnancy term is normally about 40 weeks.
China Airlines' website states that "Healthy expectant mothers who are less than 32 weeks of pregnancy or more than 8 weeks from the estimated delivery date may travel and be accepted by China Airlines as normal passengers." This would put the new mom just under the acceptance threshold.
The incident happened six hours after the plane took off from Taiwan Taoyuan International Airport.
Luckily there was a doctor on board - Dr. Angelica Zen, a UCLA resident physician who, however, had never previously assisted during a delivery.
"My training is in internal medicine pediatrics so we do adults and kids, but really no pregnant women at all, so since my training we haven't done much OBGYN [obstetrics/gynecology]," Zen told ABC 7. "I was a little bit nervous."
READ MORE: ​7yo 'miracle girl' walks away from plane crash that killed 4
The plane captain decided to make an emergency landing in the nearest airport in Alaska. However, the woman gave birth to the baby girl 30 minutes before the plane landed at the Ted Stevens Anchorage International Airport.
Both mother and the newborn are in good health, CAL added.
One of the passengers, Amira Rajput, managed to record a video of flight staff holding a baby to the applause of other passengers. She told ABC News that the mother was "tough as nails," she bit down on blankets to keep from screaming.
"It was super chill," Rajput said. "People were super quiet and calm so that this woman could have a stress-free experience."
The nationality of the baby girl will depend on the birth certificate to be issued by the Anchorage hospital, Civil Aeronautics Administration said.
You can share this story on social media: