Thousands of French police protest govt after shooting of colleague by prisoner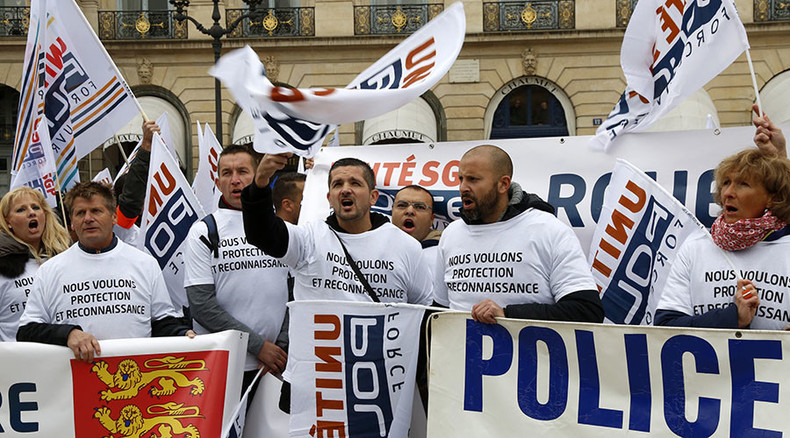 Thousands of French police officers staged a protest in Paris on Wednesday, demonstrating against a lack of resources, rising violence, and an ineffective justice system. Other protests took place in front of courthouses across the country.
At least 5,000 officers waved union flags and flares which produced orange, black, and white smoke in front of France's Ministry of Justice in Place Vendome, the Local reported. France 24 put the number of participants at 7,500.
The demonstration in front of the Ministry of Justice was prompted after an officer was shot in the head and critically wounded earlier this month by a reportedly radicalized inmate who had been granted temporary leave from prison earlier in 2015, but never returned.
The crowd fell silent as a speaker addressed the justice minister in the name of the injured officer. The sound of police sirens and whistles then erupted.
Since the shooting, police have called on the government to explain why the prisoner was released, with the Alliance police union saying that Justice Minister Christiane Taubira "must be held accountable because the fact that our colleague is fighting for his life could have been avoided."
Taubira responded by saying that prisoners on leave should be escorted by police – a statement that didn't sit well with officers, who say they already have an unmanageable workload.
The officers on Wednesday criticized France's police system, which they consider to be dysfunctional, claiming that punishments are too lenient and that prisoners are too often allowed to leave jail.
"When we arrest people, we want them to remain behind bars," said Laurent Diedrich of the Paris-area SCSI-CFDT police union, as quoted by AP.
Police are suffering more at the hands of violent criminals, according to Nicolas Comte, a police union leader with Unité SGP Police FO, told French channel BFM TV.
"The justice system hasn't managed to grasp this phenomenon," he said, adding that punishments quite often do not match the crimes.
Comte also stressed that officers have not been paid for a total of 20 million hours of overtime. Much of officers' extra work stems from being stationed around the clock in front of religious areas such as mosques and Jewish schools.
"People need to understand the police are not doing well. Since the January attacks and the implementation of Plan Vigipirate, colleagues have been working hours without end," Comte added. "They are in a state of fatigue and working under constant pressure."
Former Prime Minister Francois Fillon also chimed in, criticizing current President Francois Hollande and saying that he "must heed the pleas from the police and the French people, who all denounce the lack of authority."
Hollande said on Wednesday that he would meet with police unions next week, government spokesman Stephane Le Foll said. The leader highlighted the "difficult, courageous and effective work by police, gendarmes and all security forces" during his weekly cabinet meeting.
Current Prime Minister Manuel Valls responded the protest by saying the government plans to simplify the bureaucracy and formal proceedings surrounding detentions and investigations. He added that arms traffickers will receive harsher sentences in the future, and that he wants to clamp down on inmates getting approved day leave in cases where it is not a "demonstrated need."
"I hear the anger of the police and the [French] gendarmes, I hear their pain," he said, adding that "the message of the protesters is being taken seriously."
Meanwhile, Taubira said she was willing to meet with officers to discuss their concerns, and stressed the need to "prevent any risk of unjustified release" of prisoners.
The Wednesday protest was the biggest showing of discontent within the French police since 1983, when then-Justice Minister Robert Badinter faced similar accusations and protests following the killing of two officers by gangsters.