Brown bear breaks into Russian kindergarten, shot dead (VIDEO)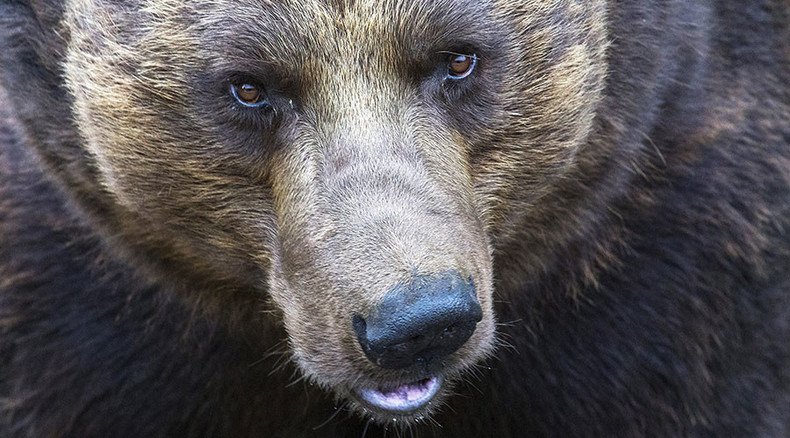 Police in the Russian city of Khabarovsk near the Chinese border were forced to shoot a bear when it made its way into a kindergarten after being chased away from a shopping mall.
Locals first spotted the bear on a parking lot near a sporting arena called Erofey late in the evening. By the time the police had arrived the bear had already moved to a shopping mall nearby.
The police managed to shoo the scared animal out of the shops, but the bear made a run straight to a local kindergarten and was shot at the scene.
The head of the state hunting monitoring agency, Andrey Mamayev, estimated that the bear was young, about one year old, and had probably just started living without his mother.
"We can conclude that the inexperienced bear decided to swim across the Amur River in search of a den," Mamaev added.
This could be the case as brown bears hibernate through winter, so the young male could have been looking for a suitable spot. Or he might have been hungry.
Because brown bears have an enormous food palate - they will try anything and eat anything if it's accessible - they are often attracted to human-created food sources. They usually opt for meals that are easily obtained though. Not worth a marathon swim like what the bear in question had to supposedly go through. The Amur's width near where the bear was first spotted is 1.16 km.
READ MORE Rescuers save caged animals struggling to survive flood in Russian Far East zoo
Brown bears are known to attack humans, they are large animals that can weigh up to 680kg and commonly live to 25 years in the wild.
The Khabarovsk Region's Environmental Resources Ministry states that with fewer hunters interested in bears, the number of animals has significantly risen in the past few years. There are more than 15,000 brown bears in the region. This has to do with the fact that previously hunters used to trade with China, but now China has legalized bear farming on its territory.
Animal activist Natalya Kovalenko told local media that the police did what they had to do: "The choice here was obvious: they had to act fast to avoid human casualties."
There have been more than 30 sightings of bears near humans in the Khabarovsk Region in 2015. In July, a 50-year-old fisherman was torn to pieces by a bear in the town of Krasnoye and sightings became so common that the local authorities had to declare an emergency situation.
In September another bear was put down for scaring locals while repeatedly stealing honey from an apiary in Sergeevka.
You can share this story on social media: