Rescuers save caged animals struggling to survive flood in Russian Far East zoo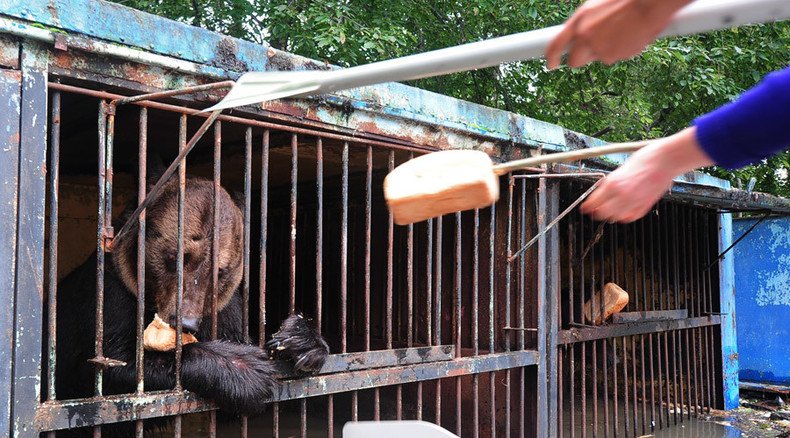 Rescuers are evacuating exhausted and starving animals which have been trapped at the flooded zoo in the Russian city of Ussuriysk for days. So far a lion and three bears have been airlifted to safety, while many animals confined to their cages are yet to be rescued.
According to the Emergencies Ministry at least 10 bears and three volkosoby (a wolf/dog cross) are yet to be lifted from their waterlogged surroundings at "Green Island" animal park. Exhausted from spending three days in floods, the caged wild animals which survived the overflow of the river Rakovka may pose a threat during the evacuation process, veterinarians and animal activists have warned.
Before the emergencies services arrived to take care of the animals, volunteers tried to feed the stranded brown bears and gave them vodka to warm them up and keep them alive until the army came to their rescue.
Locals bravely exerted their efforts to try and save the animals after a deluge of water tore through the zoo when a river in the far eastern city burst its banks. However, an RT crew which visited the devastated zoo site saw the corpses of dead animal floating around the zoo premises.
Some animals drowned in their cages while many survived the cataclysm standing upright for hours trying to breathe. Several wolves, bobcats, a lion and a visitors' favorite, a friendly bear named Masyanya, all drowned in the flooded zoo.
RIP Masyanya bear: Animals die in flooded zoo in Russia's Far East, locals say (PHOTOS, VIDEO)
Rescue operations continues as the water recedes further, but so far the water level has dropped enough to give the remaining animals a chance to survive.
A Mi-26 helicopter had to be called in to transport a lion named "Grey" trapped at the zoo to safety at a temporary shelter at an old local circus. On Wednesday morning, a cage containing three bears was lifted out, while a cub was rescued by car. The rest of the animals will be rescued throughout the day if veterinarians deem them ready for transportation. According to the ministry, they will temporarily be housed at a "special guarded area."
So far, according to the Ministry of Emergencies Situations, three foxes, a badger, a wolf, two cats, three ferrets, and three rabbits have also been rescued and taken to safety. The military will use specially designed cranes to lift larger wild animals to safety after carefully placing them to sleep.
At least 78 people and 29 pieces of equipment are involved in rescue efforts, monitored by the Russian President personally. Authorities have meanwhile opened a criminal investigation into the matter and are looking for the directors of the privately owned zoo.
You can share this story on social media: