Russian, American envoys in Turkey warned against helping Syria's Kurds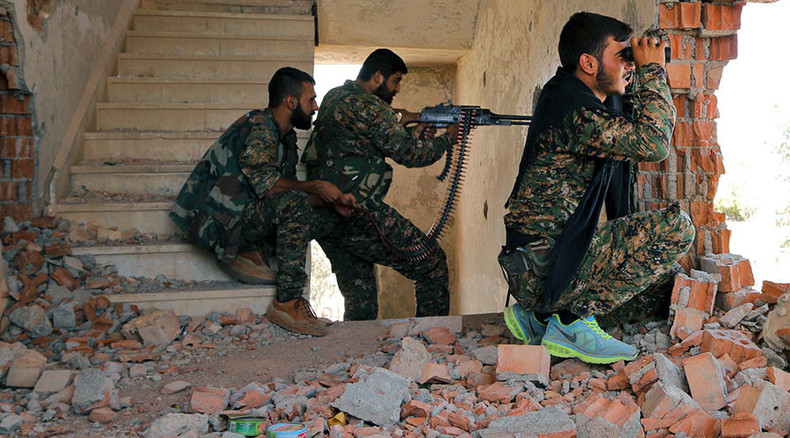 The Russian and American ambassadors, summoned to Turkey's Foreign Ministry, were warned against providing the Kurdish Democratic Union Party (PYD) with military aid. Armed Kurdish units are successfully confronting Islamic State groups in Syria.
Russian Ambassador Andrey Karlov and US Ambassador John Bass were summoned to the Turkish Foreign Service on Tuesday in connection with the military aid Ankara believes the two countries provide to the Syria's Kurds, a representative of the Turkish ministry told RIA Novosti.
The ambassadors were informed of "inadmissibility of military support to the Kurdish Democratic Union Party."
READ MORE: Turkish 'double-dealing' in fight against ISIS
Turkey is determined to fight against Kurdish armed groups and will not tolerate arms support for Kurdish militants, Turkish Prime Minister Ahmet Davutoglu said.
"Nobody can make us sure that the weapons our allies are going to supply to the PYD will not get to the PKK [the Kurdish Workers' Party, outlawed in Turkey]. We are going to regard the aid to the PYD as a move stacked against Turkey," Davutoglu said at a meeting with heads of national media. Politician stressed that five or six months ago the PYD and the PKK could be treated as different organizations yet now there is no sense in it.
READ MORE: Turkish troops make Iraq incursion to pursue PKK militants following fatal attack – report
Turkish PM expressed concern that arms from Syria's Kurds could find its way to Turkey and be used against Turkish servicemen, police officers and civilians.
Davutoglu also said Ankara regards preventing arms supplies to Kurds as a national security issue.
If military aid is provided to the PYD and the PKK, Ankara is set to "take the same measures in Syria as in Northern Iraq," where the Turkish Air Force has been bombing positions and installations of the Kurdistan Workers' Party.
READ MORE: Turkish troops make Iraq incursion to pursue PKK militants following fatal attack – report
Prior to calling Russian and American diplomats on the carpet, PM Davutoglu called on Washington to stop supplying Syrian Kurds with arms, because these arms could end up in the hands of the PKK, a longstanding thorn in Ankara's side.
On Tuesday, Colonel Steve Warren, spokesman for Operation Inherent Resolve, told the press that 50 tons of ammunition was airdropped by the US Air Force to the 'Syrian Arab Coalition' (SAC), a 5,000-strong force of Arab insurgents in the east of Syria, which he said was fighting against Islamic State (IS, formerly ISIS and ISIL) in northeastern Syria, a territory believed to be controlled by mostly Kurdish armed groups.
A short time ago Russian Foreign Minister Sergey Lavrov acknowledged that Moscow does provide Kurds fighting IS with arms using the channels of the Iraqi government.
A series of terror acts staged by Islamic State in Turkey since July followed by the air warfare of Turkish Air Force against the positions of the PKK in Northern Iraq were responded with a series of attacks of Kurdish militants. In a matter of two and a half months the attacks of Kurds claimed lives of 140 Turkish police, servicemen and civilians.