'Horrific': Girl, 4, gang raped in India, police detain suspects for 'questioning'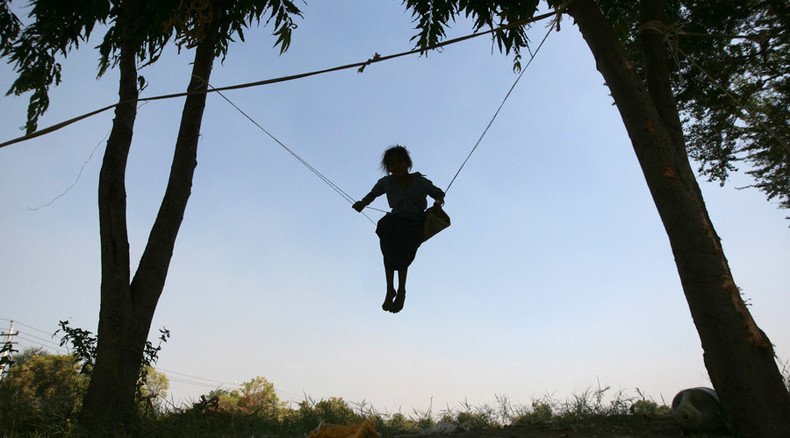 Indian police have detained two men who allegedly raped a four-year-old girl in New Delhi. The girl, who comes from an extremely poor family, now requires a series of surgeries in order to recover from the severe injuries she sustained.
The four-year-old girl who lived in a slum was raped and beaten with stones last week, a senior police officer involved in the investigation, told Reuters on Monday.
"We are questioning the men in our custody and trying to help the victim's father obtain [the] best medical care for the child," Vijay Singh said.
The girl has recognized one of her abusers, a 26-year-old going by the name Rahul, local news outlet NDTV reported. From what the girl has told police, it appears that Raul lured her with noodles and then took her to the city's leafy Keshav Puram district.
The girl's abusers bit her, hit her with stones and left her to die, NDTV reported citing the girl's father. Despite her injuries, the girl reportedly managed to crawl home.
READ MORE: Sentenced to rape?! 1,000s call for action as Indian community council 'orders' abuse of 2 sisters

According to Reuters, the girl's parents, daily wage earners, found her lying unconscious near the railway tracks in New Delhi on Thursday.
"We have registered a case under sections of the Protection of Children from Sexual Offences (POCSO) Act," a police official told IANS news service.
According to local media reports, the girl's intestines were badly injured, and she has already undergone an emergency surgery in Safdarjung Hospital.
"Visited the little girl, her condition can't be described. Horrific. Her parents are extremely poor. When will this heinous crime stop in Delhi (sic)," Delhi Commission for Women (DCW) chairperson Swati Maliwal wrote on Twitter.
Can't get the little girls picture out of my mind who was raped in Keshavpuram. Been so terribly brutalized. The suspect is still at large.

— Swati Maliwal (@SwatiJaiHind) October 11, 2015
Maliwal has compared the attack on the four-year old girl to that a gang rape of a medical student in December 2012, saying that "Every day we have a Nirbhaya in Delhi."
Back then, the case brought similar sexual assaults into the spotlight in India with thousands of people protesting and taking part in candlelight vigils. Not long after that, the Red Brigade, a group that aims to raise awareness of women's rights in India, was launched by a group of girls.
Violence against women and sexual abuse are widespread in India, where police have recorded over 1,000 cases of rape in Delhi this year.
You can share this story on social media: