Prince of a Man: Ontario student's act of kindness inspires Facebook fans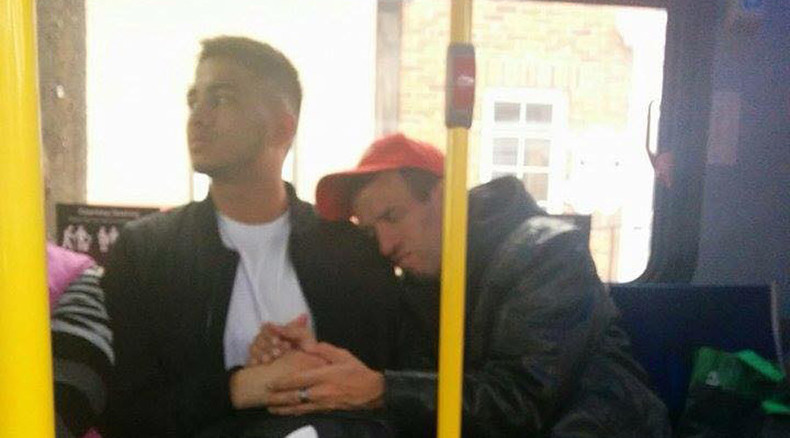 Thousands of social media users said they have had their faith in humanity restored thanks to an Ontario student who chose to spend 30 minutes soothing a man with special needs and holding his hand while on a bus in Hamilton.
Many have called Godfrey Cuotto's gesture an act of kindness and tolerance, noting how rare it has become to hear of someone sensitive enough to care about people with disabilities.
"Anyone else in Hamilton would have called this guy a crackhead or something rude... Sometimes you need to think what's in the book not just its cover, people!!" one Facebook user, Chelsey Horton wrote.
"I have a brother with autism. May he run into many more people just like this true gentleman from Hamilton," Susan Lyndon added.
Cuotto, 21, was reportedly heading home from a burrito joint when he entered a packed bus, and a stranger was willing to shake his hand. The student was a little confused at first, then decided there's no shame in helping people who really need it, and just shook Robert's hand. Sound like a trifle, uh? In fact, it wasn't.
"He kept holding my hand," Cuotto told Huffington Post Canada. "I thought I was getting pranked at first, but he just needed comfort."
Cuotto said that over the 30-minute bus ride, Robert hugged him and kissed his hands. They stayed together until the final stop.
"I just allowed it, like what am I going to do? Sometimes you just have to be selfless and put someone else's needs above yours."
Cuotto has been praised by social media users for being "a great human being." The photo of Godfrey and Robert, posted on the Facebook page, "Only in Hamilton" by a stranger, has gone viral.
"Acts of kindness such as this are truly heartwarming. Well done young sir, for what it's worth you've not only touched the hearts of those who know this vulnerable chap but also the hearts of parents around the world raising kids with special needs. To see there are selfless and tolerant young people out there gives us all great hope for the future for our kids, thank you," Tom Neath commented on FB.
"This guy is the model for all humans! We need to stop being so self-centered. It gets you nowhere. Caring towards others is the best feeling in the world! Love this!!" Rob Campbell wrote.
A family member of Robert's also got in touch with Cuotto on Facebook and thanked him for treating their uncle in such a kind way. They said Robert suffered from cerebral palsy and was deaf.
Cuotto meanwhile noted that it was his mother who taught him kindness and gentleness.
"I was raised by a queen," he told Kiss 92.5 Toronto radio station.
READ MORE: Deputy comforts baby at scene of car crash, photo goes viral
"Godfrey Cuotto should consider a career in politics! His mother should be his chief of staff!" another Facebook user, Stephen Snow, wrote.
Snow added: "What's more impressive than his act of kindness...his confidence at age 22... how he shrugs off the glory coming his way! Awesome man and a good reminder for the rest of us!"